Chocolate Cake Recipe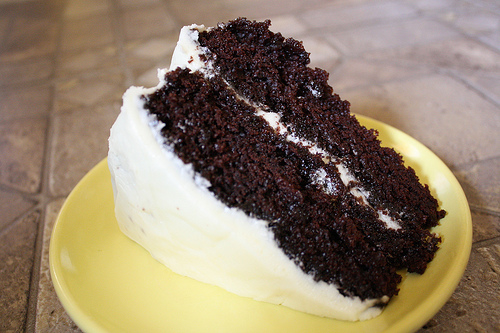 Seriously, who doesn't like chocolate cake? If you enjoy sweets you are sure to love it. I won't go as far as to say this is the best chocolate cake ever, but it's really good! Chances are some of you have either tried this recipe or make it on a regular basis. This is the legendary Hersey's chocolate cake recipe. What I love about this cake is that is has an amazing chocolate flavor, is easy to make and it's very moist. What a perfect combination. You can frost the cake with chocolate frosting but butter cream frosting goes great on this cake. After I added the water I was a little worried because the batter seemed so thing but it baked up beautifully. This cake can either be made in two 9" round baking pans or a 13×9" pan. If you want to please your family and friends with an extremely delicious chocolate cake, give this recipe a try. Enjoy.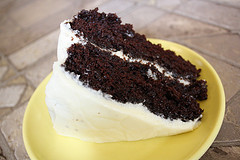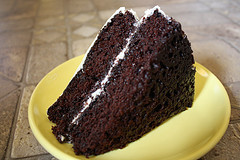 Ingredients:
1 ¾ cups flour
2 cups sugar
1 ½ teaspoons baking powder
1 ½ teaspoons baking soda
¾ cup baking cocoa
1 teaspoon salt
2 eggs
1 cup milk
½ cup vegetable oil
2 teaspoons vanilla extract
¾ cup boiling water
Butter cream Frosting-
1 cup butter
1 ½ teaspoons vanilla extract
1 pinch salt
5 cups confectioners sugar
1-2 tablespoons milk (as needed)
Cooking Instructions: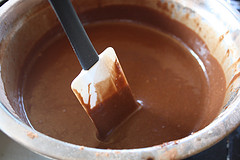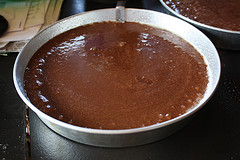 Step 1: Pre-heat oven to 350 degrees and grease two 9" round baking pans. In a large bowl mix flour, sugar, cocoa, baking power, baking soda and salt. Add eggs, milk, vanilla extract, and oil. Beat on medium speed for 2 minutes. Stir in boiling water with a spatula or spoon. Evenly pour batter into both baking pans.
Step 2: Bake in the oven for 30-35 minutes or until a toothpick comes out clean. Remove from oven and allow to fully cool.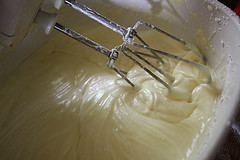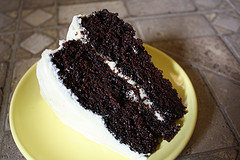 Step 3: To make frosting- In a large bowl cream butter and add vanilla extract and salt. Beat on medium speed adding sugar 1 cup at a time. Add milk 1 tablespoon at a time until frosting has reached your desired consistency.
Step 4: Frost the cake with a spatula.