Chow Mein Recipe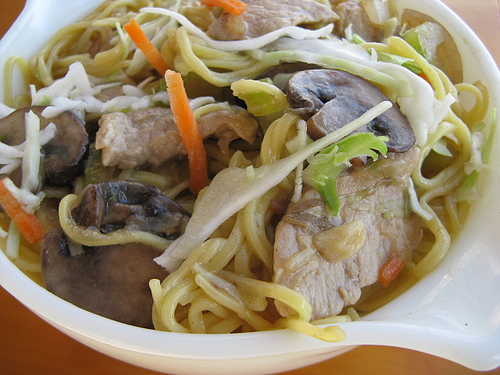 Chow Mein is quite possibly my favorite Chinese noodle dish. If you are not familiar with Chow Mein it is a stir fry dish with noodles, lots of vegetables and a delicious sauce. There are a couple different types of chow Mein; one with soft noodles and one with crispy noodles. This version is with the soft noodles, which is closer to the original Chinese version of the dish. Chow Mein is served at many take-out places and restaurants within the United States. This recipe calls for 'Chow Mein noodles', you should be able to find them at any Asian market or the Asian sections at your local grocery store. If you don't have any luck finding them thin egg noodles would work as well. You can basically add the vegetables to your taste. I used cabbage, carrots, onions, mushrooms, celery and bean sprouts. For the meat I used pork but chicken or shrimp would be great as well. There's not a lot of work to this recipe, the prep work takes a little time but that's about it. Enjoy.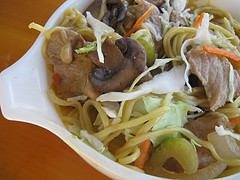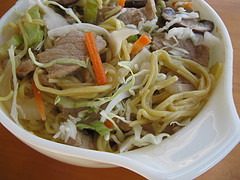 Ingredients:
1.5lb boneless pork chops (sliced thinly into strips)
4 garlic cloves (minced)
1 (12 oz) package chow mein noodles
1 cup fresh bean sprouts (or canned)
2 large celery stalks (sliced)
1 medium onion (sliced)
1 (12oz) package fresh sliced mushrooms
4 cups fresh cabbage and carrot mix
2 green onions (sliced)
½ cup chicken broth
4 tablespoon oyster sauce
4 teaspoons soy sauce
salt and pepper (to taste)
2 tablespoons cornstarch
oil (for frying)
Cooking Instructions: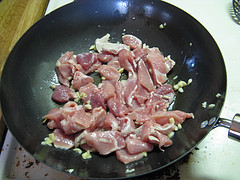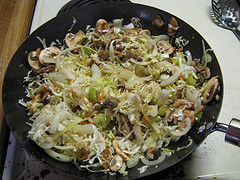 Step 1: Cook the chow Mein noodles according the package directions. Meanwhile, add a little bit of oil to the wok. Add pork strips and garlic and stir fry until fully cooked. Remove from the wok and set aside.
Step 2: Add a little more oil. Add all of the vegetables expect the green onion to the wok. Stir fry until the vegetables are as tender as you like them.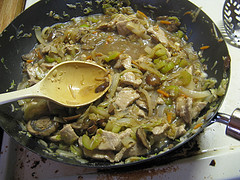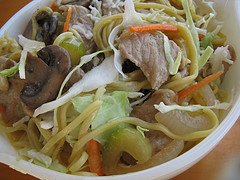 Step 3: Push the vegetables to the side creating a well In the middle of the wok. One by one add chicken broth, soy sauce, oyster sauce, salt and pepper. Mix well. Bring to a slow boil. Mix 2 tablespoons of cornstarch with a little bit of cold water. While stirring pour cornstarch/water mixture into the sauce. Return pork to the wok. Reduce heat and simmer for 5 minutes.
Step 4: Mix the vegetables mixture with the chow Mein noodles in a large bowl. Top with sliced green onions. Serve.