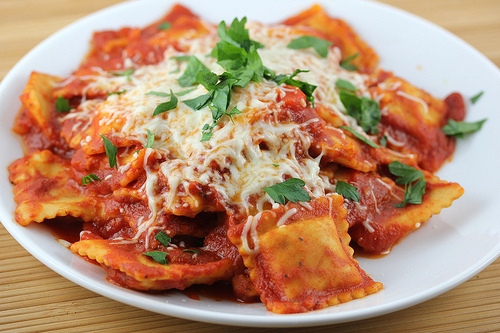 If you are extremely short on time this recipe for crock pot ravioli is the perfect meal for you. This dish is prepared using only the slow cooker and uses very few ingredients—it does not get much easier than this simple recipe. The frozen ravioli are combined in the crock pot with pasta sauce, tomato sauce, red pepper, and Italian seasonings. For the ravioli, I will often make a double batch and use a combination of beef and cheese. The quality of this recipe is going to depend a lot on the brand of sauce and ravioli you are using. Before the ravioli in finished cooking, they are topped with shredded mozzarella cheese. I like to serve this dish with garlic bread or cheese bread. Enjoy.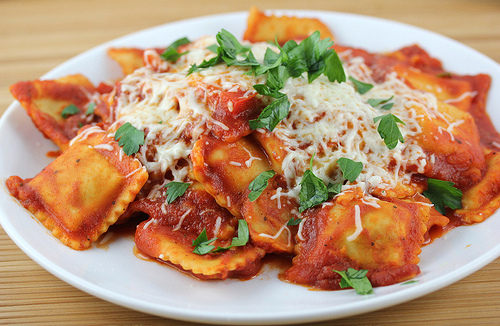 Ingredients:
1 (25 ounce) bag beef ravioli
1 (26 ounce) jar pasta sauce
1 (8 ounce) can tomato sauce
1 red bell pepper (diced)
Italian seasoning (to taste)
1 cup shredded mozzarella cheese

Cooking Instructions: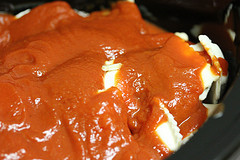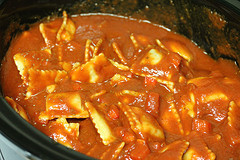 Step 1: Pour half of the pasta sauce into the bottom of the crock pot. Add the frozen ravioli and pour the remaining pasta sauce and tomato sauce over the ravioli. Top with red bell pepper and Italian seasoning to taste. Mix well and cover.
Step 2: Turn the crock pot on low and cook for 4-5 hours or until the ravioli are tender. During the last 20 minutes of cooking top with mozzarella cheese and cook until it has melted.
(Makes 6 Servings)
If you enjoyed this article Subscribe to my RSS Feed.