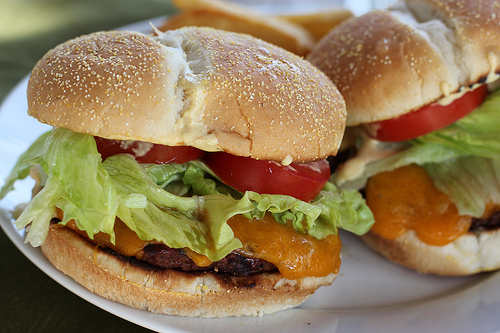 There is nothing as good as making cheeseburgers on the grill. In this article I will explain how to make cheeseburgers using the grill. Of course, these can be done in the fry pan as well. A couple important tips for making perfect cheese burgers would be. First, make sure the burgers are well seasoned on both sides with freshly ground salt and black pepper. Second, make sure not to overcook the burgers. The internal temperate of ground beef should be 160 degrees. Third, resist the urge to press down on the burger patties while cooking. This will make all of the juices run out. There is nothing worse than a dry over cooked burger. These burgers include your typical condiments such as lettuce and tomato but what is special about this is the sauce. The burger sauce that goes on these burgers really kicks things up a notch.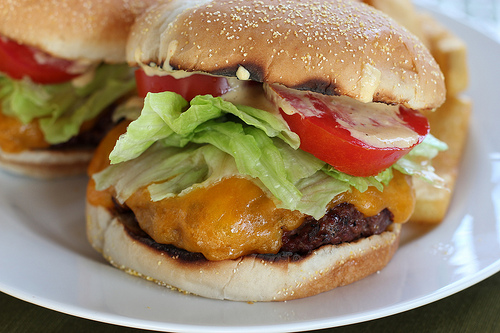 How to Make Cheeseburgers
Prep time: 15 minutes
Cook time: 15 minutes
Ingredients:
Hamburger Patties-
2lbs ground hamburger
Salt and black pepper (to taste)
4 slices cheddar cheese
lettuce (washed and torn)
2 tomatoes (washed and sliced)
4 hamburger buns
Burger Sauce-

½ cup mayonnaise
1 tablespoon ketchup
1 tablespoon yellow mustard
4 slices dill pickle
¼ teaspoon garlic powder
¼ teaspoon paprika
1 pinch cayenne pepper
Cooking Instructions: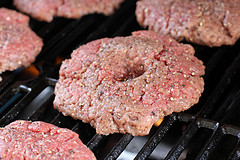 Step 1: To make the burger sauce- in a blender combine mayonnaise, ketchup, mustard, dill pickle slices, garlic powder, paprika, and cayenne pepper. Blend until smooth. Pour into a bowl, cover, and refrigerate until needed.
Step 2: Form ground hamburger into 4 patties. Season on both sides with salt and pepper. Heat an outdoor grill to medium-high heat. Grill hamburgers for 5-7 minutes per side or until the internal temperature has reached 160 degrees. During the last few minutes of cooking top each burger with a slice of cheddar cheese. Once the cheese has melted remove from the grill.
Step 3: To assemble burgers. Place a hamburger patty on the bottom half of a bun. Top with lettuce and tomato. Spread a layer of the burger sauce onto the bottom of the top half of the bun. Place on top burger.
Yield: (4 Servings)
If you enjoyed this article Subscribe to my RSS Feed.