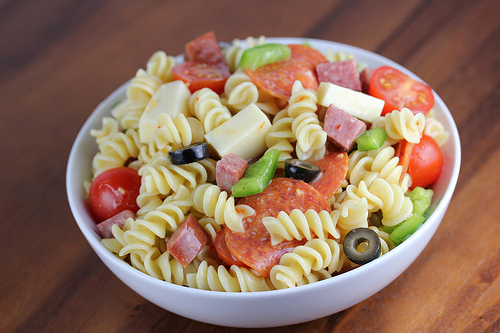 During the summer it seems as though I am always looking for a good cold salad recipe to serve as a side dish. This recipe for Italian pasta salad makes a great tasting side dish to bring to cook-outs and is good served with grilled meats such as pork chops or steak. This pasta salad is packed with great tasting ingredients such as pepperoni, salami, provolone cheese, cherry tomatoes, and green pepper. The dish itself gets most of its flavor from Italian salad dressing. If I am looking to add a little bit of a kick to the salad, I will sometimes use Zesty Italian dressing. Enjoy.


Ingredients:
1 (16 ounce) package spiral pasta
3 cups cherry tomatoes (halved)
1/2lb provolone cheese (cubed)
1/2lb salami (cubed)
1/4lb sliced pepperoni (cut in half)
1 large green bell pepper (seeded and chopped)
1 (10 ounce) can black olives, drained
1 (4 ounce) jar pimentos (drained)
1 (8 ounce) bottle Italian salad dressing
Cooking Instructions:
Step 1: Bring a large pot of lightly salted water to a boil. Add the spiral pasta and cook for 8 to 10 minutes or until al dente. Drain and rinse with cold water.
Step 2: Add the drained pasta to a large bowl. Add the tomatoes, provolone cheese, salami, pepperoni, green pepper, black olives, and pimentos. Pour in the salad dressing and toss to coat.
(Makes 16 Servings)
If you enjoyed this article Subscribe to my RSS Feed.