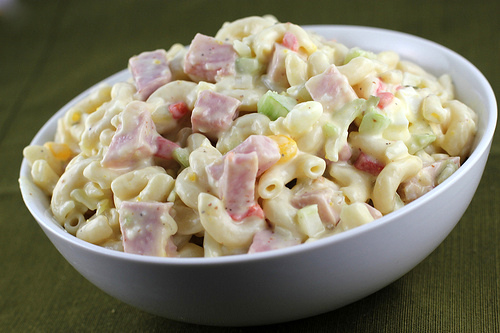 During the summer months macaroni salad is one of my favorite dishes to prepare. It makes a great side dish to go with grilled chicken or hamburgers or it can be a meal in itself. This recipe ranks on the top of my list for cold salads. You won't find any seafood in this one, but for those that require meat there are ham chunks in this salad. Some other notable ingredients include hard boiled eggs and celery. The best part of this salad of course is the dressing. Mayonnaise just isn't enough, Dijon mustard, dill relish and chopped pimentos are required as well.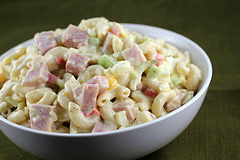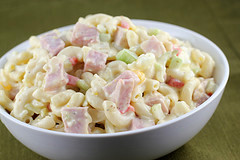 Ingredients:
4 eggs
1lb elbow macaroni
4 ounce ham steak (cubed)
2 stalks celery (chopped)
1 large shallot (finely chopped)
2 tablespoons lemon juice
Dressing-
2/3 cup mayonnaise
2 tablespoons Dijon mustard
3 tablespoons sweet pickle relish
1 (4 ounce) jar chopped pimentos (drained)
salt and pepper (to taste)
Cooking Instructions: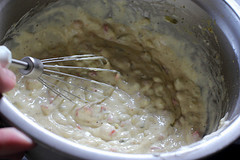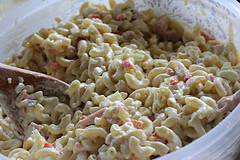 Step 1: To hard boil eggs- add the eggs into a medium saucepan. Cover with cold water and bring to a boil over medium heat. As soon as the water starts to boil cover with a lid and remove from the heat. Let sit in the hot water for 14 minutes. Drain and cool under cold water.  Peel the eggs and chop. Set aside.
Step 2: Cook elbow macaroni according to package directions. Drain and rinse with cold water.
Step 3: In a large serving dish add the eggs, ham, celery, shallots, and lemon juice. Add in the macaroni and mix well. In a separate bowl whisk together mayonnaise, mustard, pickle relish, salt and pepper. Stir in the chopped pimentos. Add the dressing to the macaroni mixture and toss to coat. Cover and chill in the refrigerator for 2 hours.
(Makes 6 Servings)
If you enjoyed this article Subscribe to my RSS Feed.