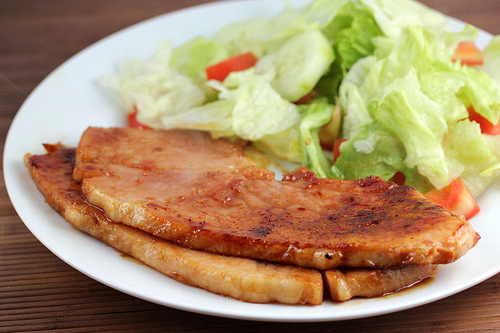 I prepared this delicious maple glazed ham steak for Easter and everyone really enjoyed it. What I like about this recipe is that it is a quick and easy way to prepare ham. The ham steak is simply brushed with this glaze while being fried in the pan. The glaze is a combination of just a few ingredients—maple syrup, apple cider vinegar, and Dijon mustard. This maple glaze ham steak goes great served with salad and macaroni and cheese. Enjoy.
Ingredients:
1 (1lb) ham steak
¼ cup maple syrup
1 tablespoon apple cider vinegar
1 tablespoon Dijon mustard
Cooking Instructions: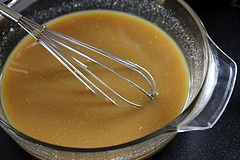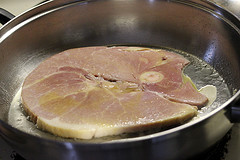 Step 1: In  a small bowl mix together maple syrup, vinegar, and Dijon mustard.
Step 2: Heat a large skillet to medium heat. Brush some of the glaze onto one side of the ham steak and place glazed side down into the skillet. Brush some of the glaze on top of the ham steak. Cook over medium heat, turning frequently and brushing with the glaze until cooked through and the glaze has thickened.
(Makes 4 Servings)
If you enjoyed this article Subscribe to my RSS Feed.