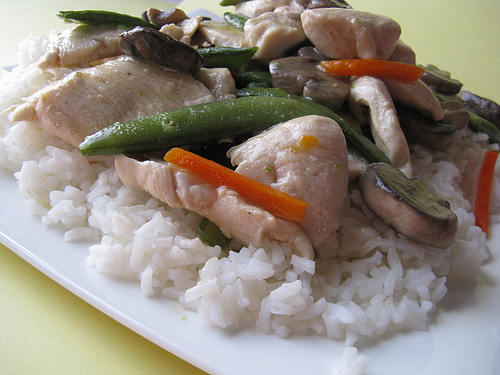 Moo Goo Gai Pan or chicken and sliced mushrooms is an Americanized version of a Chinese dish. What's great about this recipe is it requires no deep frying or breading of the chicken. Everything is done in your wok or frying pan. Moo Goo Gai Pan uses a delicious and light sauce made out of basically just thickened chicken broth. The recipe uses a wide assortment of vegetables such as mushrooms, water chest nuts, pea pods, carrots, green onions and a few more. To save time you can just buy a frozen vegetable stir fry mix from the store. You should be able to find one that consists of most (if not all) of the vegetables required for this recipe. This recipe is pretty simple, takes little time and is only 3 steps. Serve with white rice.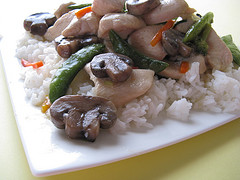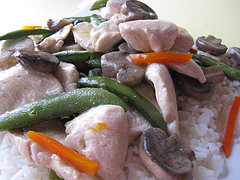 Ingredients:
3 boneless-skinless chicken breasts (cut into small chunks)
1/3 cup oil (for cooking)
3 slices fresh ginger
2 garlic cloves (minced)
1 ½ cups chicken broth
2 tablespoons cornstarch
1/2lb sliced mushrooms
¼ lb snow peas (in the pods)
1 (8 oz) can water chest nuts (drained)
1 (8 oz) can bamboo shoots (drained)
¼ cup carrots (thinly sliced)
4 green onions (sliced)
½ cup broccoli florets
soy sauce (to serve)

Cooking Instructions: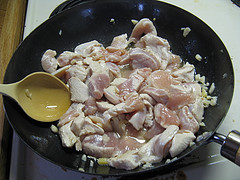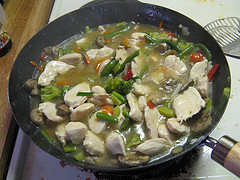 Step 1: Heat oil in the wok. Add garlic and ginger and stir fry 30 seconds. Add chicken and stir fry for 4 minutes.
Step 2: In a bowl combine chicken broth and cornstarch. Pour the mixture into the wok over the chicken. Add all vegetables.
Step 3: Cover and simmer for 15 minutes. Serve with white rice and soy sauce.
(Makes 4 servings)
If you enjoyed this article Subscribe to my RSS Feed.