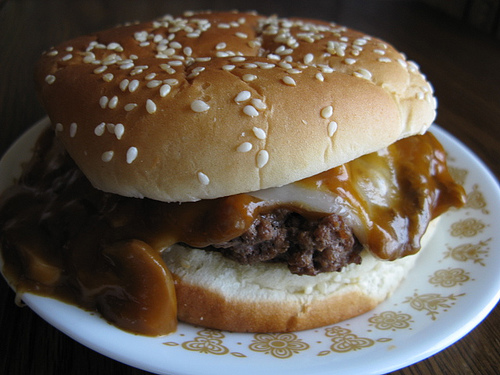 Burger fans, this could be a dream come true. I came across this recipe on the internet awhile back, tried it once and have been making it ever since. It's a copy-cat recipe of Hardee's Mushroom and Swiss Burger, and if you've ever tried it at Hardee's this is about as close as you can get to the real thing. A juicy, seasoned beef patty topped with delicious Swiss cheese and a scrumptious mushroom sauce. Oh man, what more could you want? You can either cook these bad boys on your stove top or throw them on the grill. Normally I despise the average copy-cat recipe, because from past experiences most of them taste nothing like the ones at the actual restaurant, but this in my opinion some what lives up to the name. If your curious, try it and you decide.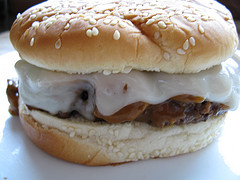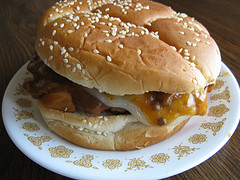 Ingredients:
1 can Campbell's Golden Mushroom soup
1 can sliced mushrooms
1 teaspoon of Worcestershire sauce
4 slices Swiss cheese
¼ lbs hamburger patties
½ teaspoon Accent seasoning
½ teaspoon Lawry's Seasoned Salt
¼ teaspoon ground pepper

Cooking Instructions: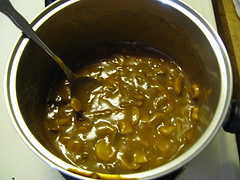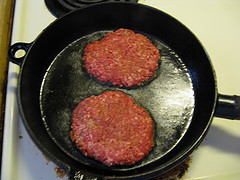 Step 1: Combine Golden Mushroom soup, mushrooms, and Worcestershire sauce in a pan. Put on the stove and let simmer.
Step 2: Combine Accent seasoning, seasoned salt, and pepper in a shaker.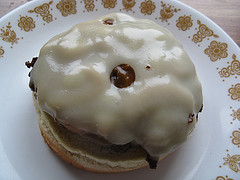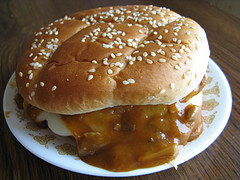 Step 3: Season your patties with the seasoning mixture and pan fry or grill until done.
Step 4: Place patty on a bun, top with Swiss cheese and the mushroom sauce.
Tags: cooking, recipes, food and drink, recipe
 
If you enjoyed this article Subscribe to my RSS Feed.