New York Cheesecake Recipe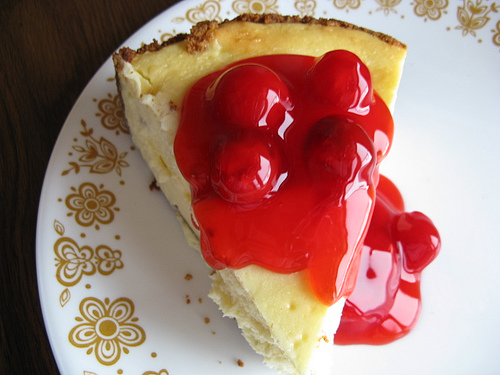 For every holiday in recent years I've been cooking cheesecakes. Every holiday a different cheesecake recipe, but that's until I found this one. When I first found this recipe it was labeled as a 'New York Cheesecake'. Now I'm not from NY (though I am a huge Giants fan) so I don't know if this stays accurate to how they make cheesecakes in New York or not. One thing I do know is that this recipe is a definite keeper and will remain on the top of my favorite deserts list for years to come. It's extremely easy to make, and the almond extract and macadamia nut crust give it a delicious and unique flavor. It goes great topped with cherry or blueberry pie filling, but you could use any fruit filling or none at all.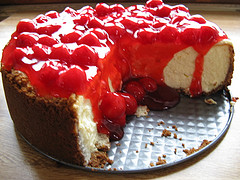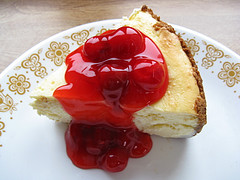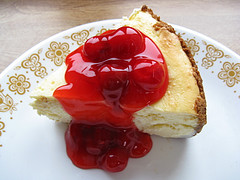 New York Cheesecake Recipe
Ingredients:
1 ¾ cup graham cracker crumbs (crushed)
¼ cup macadamia nuts (crushed)
1 teaspoon ground cinnamon  ½ cup butter
5 (8 oz) Packages of softened cream cheese
1 ¾ cup sugar
3 tablespoons of flour
5 eggs
2 egg yolks
¼ heavy whipping cream
1 ½ teaspoons almond extract
Directions:
 Preheat your oven to 400 degrees. Crush graham crackers and macadamia nuts and mix them together with ground cinnamon and melted butter in a bowl.
Press onto the bottom and sides of a 9 inch springform pan.
Place it into the oven and bake for 7 minutes, then remove and let it cool.
 Increase oven temperature to 475 degrees. Combine cream cheese, 1 ¾ cup sugar, 3 tablespoons of flour, 5 eggs and 2 egg yolks, and mix thoroughly. Next, add almond extract and heavy whipping cream and mix just enough to blend.
Pour filling mixture over your crust. Place back in the oven and bake on 475 for 10 minutes.
Reduce oven temperature to 200 degrees and let your cheesecake bake for 1 hour. After an hour turn off your oven, but leave the cake in there for another hour before taking out.
Remove the cheesecake from your oven, cool slightly and then place it overnight in your refrigerator.