Onion Burgers Recipe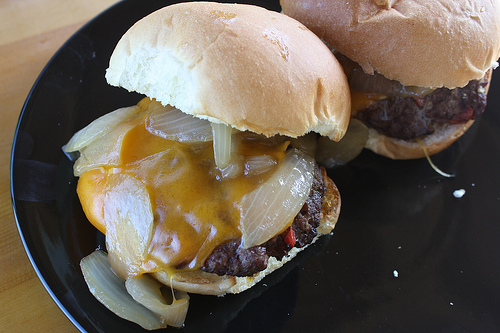 Here is another delicious hamburger recipe – onion burgers. These were a fantastic change from the burgers I'm used to making. The highlight of this recipe is the beer braised onions. They really added an amazing sweet flavor to the burgers. This recipe uses a bit of beer, so if you are not into cooking with alcohol, this recipe probably isn't for you. Not only does beer go into the onions but it goes into the burger patties as well. The patties get most of their flavor from beer, garlic and Dijon mustard. I grilled the burgers but they could be fried in the pan as well if you prefer. Another great addition to this burger is to add slices of crispy bacon on top. Sadly, I didn't do this but I wish I had! You can also add an assortment of optional condiments such as lettuce and tomato if you choose. Enjoy.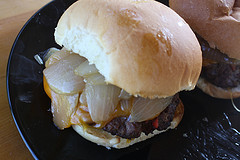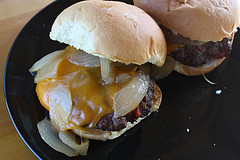 Ingredients:
1 ½ lbs ground beef
Hamburger buns (lightly toasted)
2 garlic cloves (minced)
¼ cup red pepper (finely diced)
¼ cup beer
2 tablespoons Dijon mustard
Salt and pepper (to taste)
2 cups cheddar cheese
Beer Braised Onions-
1 large onion (sliced)
1  tablespoon butter
1 tablespoon sugar
¾ cup beer
Cooking Instructions: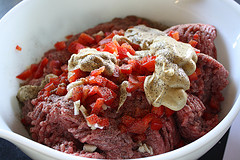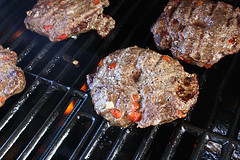 Step 1: In a large bowl combine ground beef, garlic, red pepper, ¼ cup beer, Dijon mustard, salt and pepper. Mix until well combined. Form mixture into 4 patties that are 1" thick. Grill on medium heat for 4-6 minutes per side.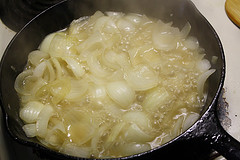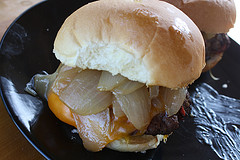 Step 2: While burgers are cooking, to make beer braised onions- Melt butter in a large skillet. Add onions and cook while stirring over medium heat for 5-6 minutes or until tender. Add ¾ cup of beer and 1 tablespoon of sugar. Cook until beer is absorbed and the onions are lightly browned (about 15 minutes).
Step 3: Just before burgers are done cooking top each burger with shredded cheese and heat until slightly melted. Remove burgers from the grill. Serve on toasted buns and top with onions.
(Makes 4 Burgers)