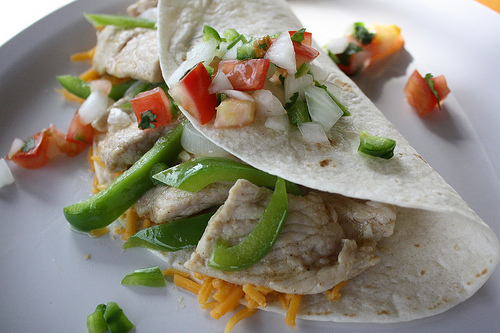 If you decided to give my recipe for chicken fajitas a try, chances are you will love these pork fajitas as well. Fajitas are one of my favorite Mexican foods, and they are so easy to make. The prep work might seem like kind of a hassle but it's worth it. This recipe uses fajita seasoning as well as fresh garlic and ground cumin for most of the flavor. I used boneless pork chops but pork tenderloin will work as well. I sliced the pork and fried it in the pan but you could also leave it whole, season it, grill it and then slice it. The possibilities for condiments are nearly endless. Personally, I served this with shredded cheddar cheese, pico de gallo, and lettuce. Enjoy.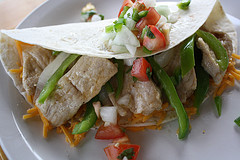 Ingredients:
1lb boneless pork chops or tenderloin (cut into thing strips)
2 tablespoons olive oil
½ teaspoon salt
½ teaspoon pepper
2 green bell peppers (sliced)
1 onion (sliced)
3 garlic cloves (minced)
1 teaspoon cumin
2 teaspoons fajita seasoning
The juice of 1 lime
8 flour tortillas (warmed)
Optional Condiments-
Pico de Gallo
Tomato
Lettuce
Shredded cheese
Cooking Instructions: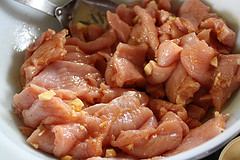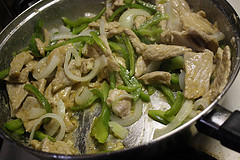 Step 1: In a bowl mix pork slices, oil, salt, pepper, fajita seasoning, garlic, and cumin. Mix well to coat pork. Cover and refrigerate for 1 hour.
Step 2: In a large pan heat a little oil. Add pork mixture and stir fry constantly for 2-3 minutes. Add bell peppers and onions. Stir fry for 4 minutes. Add lime juice and cook for 2 more minutes until vegetables are tender and pork is fully cooked.
Step 3: Add ¾ cup of meat mixture to each warmed tortilla, add condiments (if desired) and serve.
(Makes 4 Servings)
If you enjoyed this article Subscribe to my RSS Feed.