Chicken Fajitas Recipe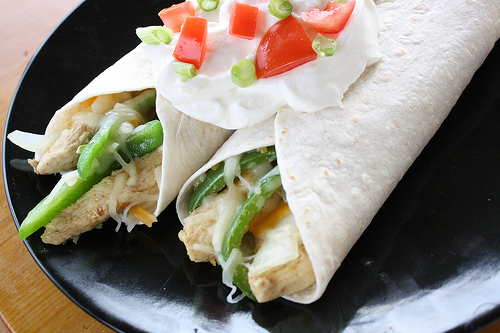 A very popular food from Tex-Mex cuisine is the fajita. My personal favorite is chicken fajitas of course. Traditionally the fajita is made with skirt steak and if you don't want to use chicken, steak will work great as well. In this recipe the chicken is first marinated in a blend of seasonings and then sautéed in the pan. You could also leave the chicken breasts whole, marinate them, grill them and slice them up into strips. Sliced onions and green peppers are then cooked in the pan and tossed with the meat. The vegetables can also be grilled as well. For the condiments, you can really add whatever you want. Some choices would be Sour cream, tomato, guacamole, Mexican rice, and cheese. This is a very simple and easy recipe that takes very little time. If you are looking for a quick meal, this is perfect for you. Enjoy.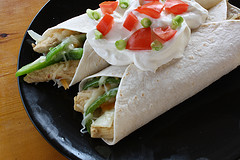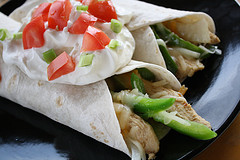 Ingredients:
8 flour tortillas
1.5lbs boneless skinless chicken breasts (or skirt steak)
1 teaspoon garlic powder
1 ½ teaspoons seasoning salt
1 ½ teaspoons cumin
½ teaspoon chili powder
½ teaspoon crushed red pepper flakes
2 tablespoons vegetable oil
2 tablespoons lemon juice
4 tablespoons vegetable oil
1 medium onion (sliced)
1 medium green pepper (sliced)
Optional condiments (can use some or all)-
Sour cream
Guacamole
Salsa
Tomato
Cheese
Cooking Instructions: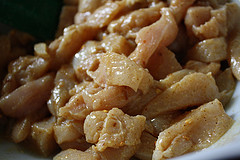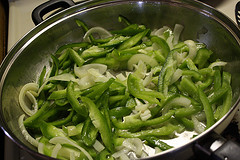 Step 1: Slice chicken into small strips. In a large bowl mix garlic powder, seasoning salt, cumin, chili powder, red pepper flakes, 2 tablespoons vegetable oil and lemon juice. Add chicken strips and toss to coat. Cover and marinate in the refrigerator for 2 hours.
Step 2: In a skillet add 2 tablespoons of oil and sauté onions and green peppers for 3 minutes or until the vegetables have reached your desired tenderness. Remove from pan and set aside.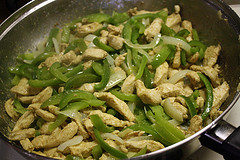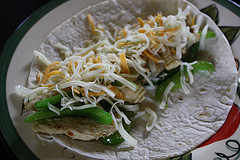 Step 3: Add more oil to the pan if necessary. Add chicken strips and sauté until no longer pink inside (fully cooked). Add vegetables back to the pan and toss with the chicken. Spoon mixture onto flour tortillas; add optional condiments (if you want) and serve.
(Makes 4 servings)