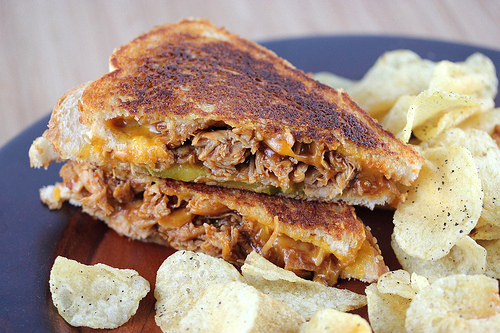 Here is another simple and yet delicious idea for a grilled cheese sandwich, pulled chicken grilled cheese. This recipe consists of shredded chicken mixed with your favorite BBQ sauce, cheddar cheese, and dill pickle slices. You can experiment with different types of cheese if you want, smoked Gouda may be a good option. If you would prefer, you can also cook the chicken in the slow cooker with the BBQ sauce. If you are feeling adventurous and want to make your own sauce, I have an excellent recipe for BBQ sauce on this blog. This makes for an easy and delicious dinner. Enjoy.
Ingredients:
2 boneless skinless chicken breasts
1 cup BBQ sauce
8 dill pickle slices
8 slices cheddar cheese
8 slices white bread
butter (for spreading)
Cooking Instructions: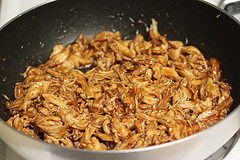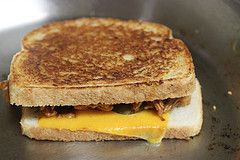 Step 1: Add chicken to a sauce pan or a large deep skillet. Fill with enough water to cover the chicken and bring to a boil. Boil until the chicken is fully cooked (the internal temperature has reached 165 degrees). Drain any excess liquid from the pan and shred the chicken using two forks. Return the shredded chicken to the sauce pan and mix with BBQ sauce. Cook on low heat until heated through.
Step 2: Heat a skillet to medium heat. Spread a thin layer of butter on one side of each slice of bread. Place two of the slices into the skillet butter side down. Top each slice of bread in the skillet with 1 slice of cheese, pulled chicken, 2 dill pickle slices, and another slice of cheese. Cover with 2 of remaining bread slices, butter side up.
Step 3: Cook the sandwiches over medium heat until browned on the bottom. Flip them over and cook until browned on the other side and the cheese has melted. Repeat the process with the 2 additional sandwiches.
(Makes 4 Servings)
If you enjoyed this article Subscribe to my RSS Feed.