There's nothing like some good old comfort food, and there's nothing better than some Salisbury steak. No… not the frozen stuff, the homemade Salisbury steak! It's tasty, it's easy to make, and it's been popular in the United States for many years. I found a couple Salisbury steak recipes online awhile ago, but one of them of them I didn't like the gravy and the other, I didn't like the patties. So what did I do? I combine them to make the perfect Salisbury steak recipe. In this article I give you two methods of cooking the patties- on the stove top or on the grill. Whichever one you choose will have a significantly different flavor. Going with the stove top will give a juicy buttery flavor, and going with the grill with give the flamed broiled flavor. If you want you can do what I did, grill half and cook half on the stove top. Personally, I think both methods taste good.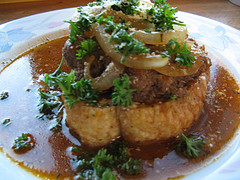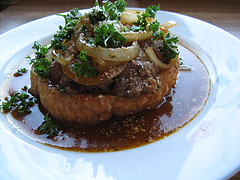 Ingredients:
Salisbury steak-
1lb ground beef
1/3 cup minced onions
¼ cup cracker crumbs (or bread crumbs)
1 egg (slightly beaten)
1 ½ tablespoons prepared horseradish
1 teaspoon salt
1 teaspoon pepper
3-4 tablespoons butter
Gravy-
1 onion (sliced into rings)
1 teaspoon sugar
2 cups beef broth
1 tablespoon garlic (minced)
1 tablespoon tomato paste
½ teaspoon dried thyme leaves
2 tables spoon flour
¼ cup dry red wine
Parmesan Cheese (for garnish)
Minced parsley (for garnish)

Cooking Instructions: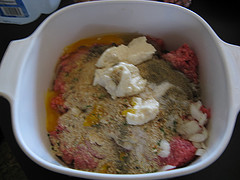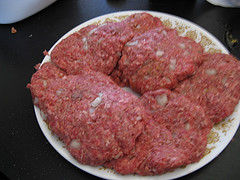 Step 1: Combine ground beef, minced onions, cracker or bread crumbs, egg, horseradish, and salt and pepper. Shape into oval patties.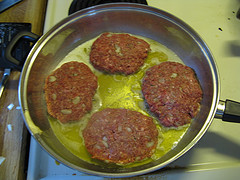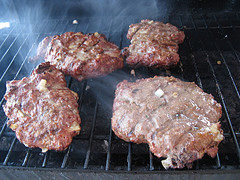 Step 2: Heat 2 tablespoons of butter in a skillet. Cook patties until they are no longer pink inside, about 7-8 minutes on each side. Remove from pan.  (or if you want, you can grill them)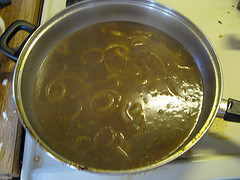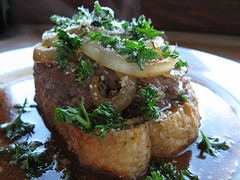 Step 3: Add onions and sugar to the pan and sauté for about 5 minutes. Stir in garlic and tomato paste. Sauté for 60 seconds or until paste is browned. Sprinkle the onions with flour and cook for 60 seconds. Stir in beef broth, wine, salt and thyme. Return your patties to the pan and simmer for 10 minutes.
Step 4: Serve patties on top of cheese toast and top with sauce, onions, fresh parsley and parmesan cheese.
Tags: cooking, recipes, food and drink, recipe
If you enjoyed this article Subscribe to my RSS Feed.