Shrimp Quesadillas Recipe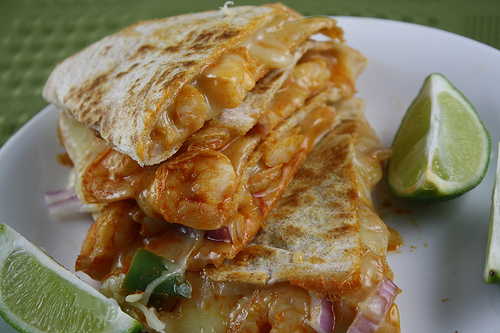 With all of the different types of quesadillas there are, I always have a hard time deciding which ones to make. This time I decided to try a delicious looking recipe for shrimp quesadillas. In this particular recipe, the shrimp are marinated in a mixture of lime juice and various spices. These quesadillas can be pretty spicy and you can adjust the seasonings to change the level of heat. Most of the heat comes from cayenne pepper, red pepper flakes, and hot paprika. You can add more or less to meet your tastes. These go great topped with Guacamole, sour cream, and Pico de Gallo.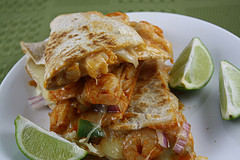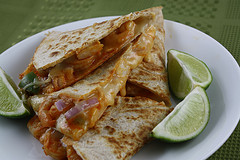 Ingredients:
1lb raw shrimp (peeled and deveined with tails removed)
1 tablespoon olive oil
2 teaspoons paprika
2 teaspoon cumin
1 teaspoon cayenne pepper
¼ teaspoon red pepper flakes
1 jalapeno pepper (seeded and chopped)
1 lime (the juice of)
16 ounces shredded Monterey jack cheese
1/4 cup red onion (sliced)
8 medium flour tortillas
Cooking Spray
Cooking Instructions: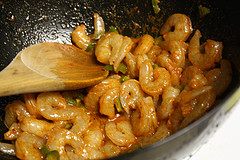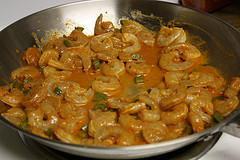 Step 1: In a  medium bowl add olive oil, paprika, cumin, cayenne pepper and red pepper flakes. Add jalapeno peppers and shrimp. Add lime juice and mix well tossing to coat the shrimp. Let shrimp sit for about 10 minutes to work in the flavors.
Step 2: Heat a medium skillet to medium high heat. Add shrimp and cook until the shrimp are fully cooked (should only take about 5 minutes). Once shrimp are cooked, remove them from the pan and chop them into pieces (this step is optional, if they are small you can leave them whole).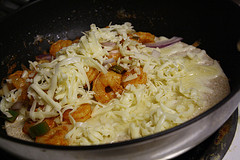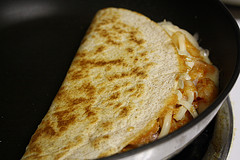 Step 3: Spray a small skillet with cooking spray and heat to medium heat. Place a flour tortilla face down on the skillet. Sprinkle the top evenly with cheese. On one side of the tortilla sprinkle the shrimp mixture and red onion. Cook until the bottom is lightly browned and the cheese has melted. Fold one side of the tortilla over the top and press down with a spatula. Remove from the pan and repeat until all of the quesadillas are made.
(Makes 8 Servings)