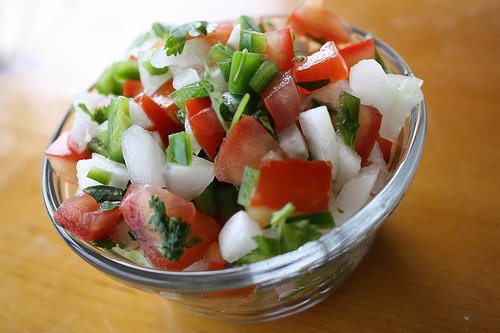 One of the recipes that I made for Cinco de Mayo is pico de gallo. For those of you not familiar with this condiment, pico de gallo is a salsa from Mexican cuisine consisting of chopped tomatoes, jalapeno peppers, onions and cilantro. The chopped vegetables are then tossed with lime juice and salt. The lime juice is what really makes this salsa great. You can adjust the amount of lime juice and salt to fit your taste. I prefer this type of salsa over the cooked stuff and this is much healthier choice. I would recommend using this salsa the same day you make it. This goes great on many types of Mexican dishes such as tacos or burritos, or you can eat it with chips if you prefer. This recipe is very simple and is really only 1 step. I would recommend giving this a try with my recipe for Chicken Fajitas. Enjoy.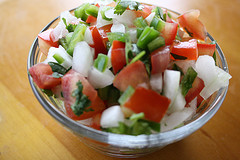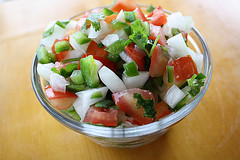 Ingredients:
4 plum tomatoes (seeded and diced)
1 small white onion (finely chopped)
2-3 jalapeño peppers (seeded and chopped)
½ cup fresh cilantro (chopped)
1 tablespoon fresh lime juice
salt (to taste)
Cooking Instructions: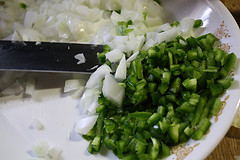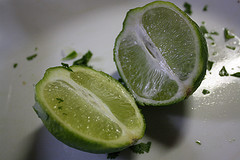 Step 1: In a bowl combine tomatoes, onion, peppers and cilantro. Add lime juice and salt. Mix well. Cover and refrigerate for 1 hour.
(Makes about 2 ½ cups of salsa)
If you enjoyed this article Subscribe to my RSS Feed.