Stuffed Zucchini Recipe

A delicious alternative to stuffed peppers is stuffed zucchini.  If you grow zucchini in your garden chances are you have an abundance of them. This recipe is a great way to use up your garden zucchini. The zucchini are first cut in half, then partially scooped out and stuffed with a meat and vegetable mixture. The baking times may very from 45 minutes to over an hour, depending on how tender you want them to be. This recipe calls for soft bread crumbs. This means actual bread torn into small pieces. A great way to do this is to put bread slices in a blender. There is quite a bit of prep work for this recipe but its well worth it. I served my stuffed zucchini with garlic toast. Enjoy.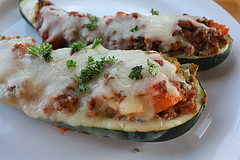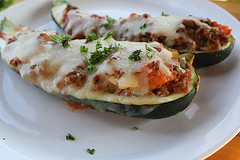 Ingredients:
1 ½ lbs lean ground beef
1 large onion (chopped)
1 green pepper (chopped)
1 jalapeño pepper (seeded and chopped)
1 ¼ cup soft breadcrumbs
1 egg (beaten)
1 tablespoon dried parsley flakes
1 teaspoon dried basil
1 teaspoon Italian seasoning
1 teaspoon salt
¼ teaspoon pepper
2 (8 ounce) cans tomato sauce (divided)
2 medium tomatoes (chopped)
4-5 medium zucchini
2 cups shredded mozzarella cheese

Cooking Instructions: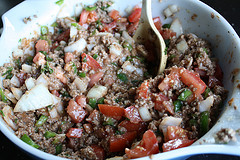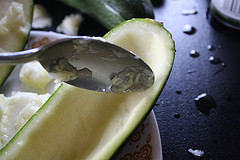 Step 1: In a medium skillet brown ground beef. Drain and set aside to cool. In a large bowl mix cooled ground beef, onion, green pepper, jalapeno pepper, soft bread crumbs, egg, parsley, basil, Italian seasoning, salt and pepper. Mix in one can of tomato sauce. Stir in tomatoes.
Step 2: Cut each zucchini in half length wise. Scoop out the center of each zucchini half to about ¼ inch from the edges. Fill each zucchini half with the meat mixture and place in two 13×9" baking dishes. Spoon the other can of tomato sauce over the top of each zucchini half.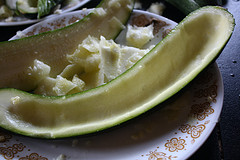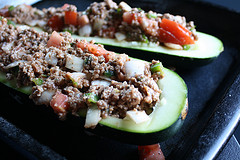 Step 3: Bake uncovered at 350 degrees for 45 minutes to 1 hour or until zucchini have reached your desired tenderness. During the last few minutes of baking top each zucchini half with mozzarella cheese.
(Makes 6 Servings)