Szechuan Chicken Recipe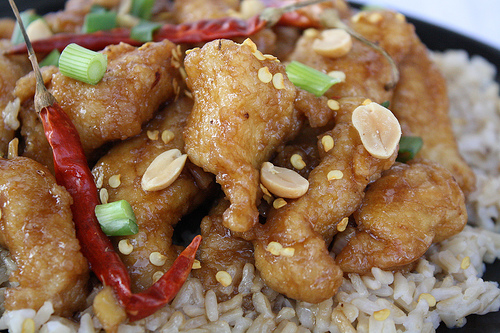 Szechuan chicken is a spicy Chinese chicken dish. It consists of breaded chicken bits tossed in a spicy and flavorful sauce. The sauce uses ingredients such as oyster sauce and chicken broth to give it that amazing flavor. Most of the spice comes from dried chili peppers. I know authentically you would be using Szechuan peppercorns but these can be a little hard to find in some places. This dish reminds me a lot of Kung Pao Chicken. The original recipe called for a batter but I decided a light coating of cornstarch would be better as I prefer my chicken bits to be crispy. This dish is great served with rice and vegetables. Enjoy.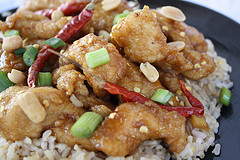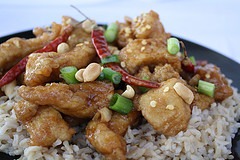 Ingredients:
2lbs boneless skinless chicken breasts (cut into strips)
½ cup corn starch
oil (for deep frying)
Sauce-
2 tablespoons oil
3 tablespoons oyster sauce
6 tablespoons low sodium soy sauce
½ cup low sodium chicken broth
6 red dried chili peppers (or more depending on how spicy you want the sauce)
1 tablespoon sherry 
2 garlic cloves (minced)
¼ teaspoon fresh ginger (minced)
3 green onions (chopped)
¼ cup dry roasted peanuts
2 teaspoons cornstarch
2 teaspoons cold water
Cooking Instructions: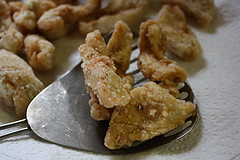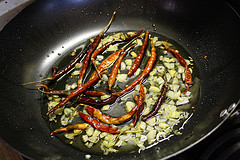 Step 1: In a bowl or shaker bag toss chicken strips with cornstarch. Heat deep fryer to 375 degrees. Fry chicken strips in batches until golden brown. Drain on paper towels.
Step 2: In a bowl combine soy sauce, oyster sauce and chicken broth. Heat 2 tablespoons of oil in a wok. Add garlic, ginger and dried chilis. Stir fry 30 seconds. Add soy sauce mixture and then add the sherry. Simmer for 2 minutes and then in a measuring cup combine 2 teaspoons cornstarch with 2 teaspoons of water and slowly pour into the sauce. Stir until the sauce has thickened.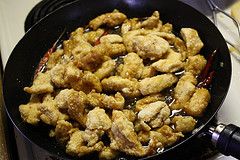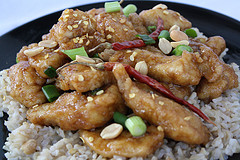 Step 3: In a serving bowl (or in the wok) toss the chicken bits with the sauce. Garnish with green onions and peanuts.
(Makes 4 Servings)