Adobo Marinade Recipe

If you are looking for a quick and easy adobo marinade for Mexican food this recipe is perfect for you. This marinade was released by Qdoba restaurant on Twitter. Qdoba claims that they use this marinade for various items on their menu in their restaurant. This marinade is great for steak, chicken, shrimp, pork, etc. Once the meat is marinated it is great put onto the grill. The marinade is just a simple combination of chipotle in adobo, garlic, fresh lime juice and Mexican oregano. Just add all of the ingredients into a blender, process until smooth and mix with any pretty much any type of meat. The burrito the chicken picture is marinated grilled chicken, cilantro-lime rice, black beans, lettuce, tomato, and queso cheese sauce. Enjoy.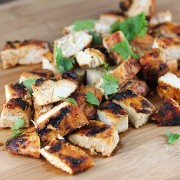 Adobo Marinade
Ingredients:
1 (7 ounce) can chipotle in adobo
1 garlic clove
1 ounce fresh lime juice
½ teaspoon Mexican oregano
Directions:
Place all of the ingredients into a food processor and blend until smooth.
Mix with steak, chicken, shrimp, etc. and marinate in the refrigerator until ready to cook. For best results, grill the meat.