Hash Brown Chicken Casserole Recipe

This hash brown chicken casserole makes an easy and delicious dinner to serve any night of the week. This amazing casserole is loaded with shredded hash browns, chicken, peas, carrots, corn and a cream of chicken soup mixture. The casserole is topped with crushed corn flakes for a nice crunch. For the chicken, you can roast the chicken, use leftover cooked chicken or the meat from a cooked rotisserie chicken if you want to save time. I roasted boneless skinless chicken breasts and sliced them for this recipe. If you are looking for a tasty casserole dish to prepare, give this one a try. Enjoy.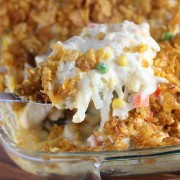 Hash Brown Chicken Casserole
Ingredients:
2lbs frozen shredded hash browns
2 cups shredded cheddar cheese
½ teaspoon salt
½ teaspoon ground black pepper
1 cup frozen peas and carrots
½ cup summer sweet corn
2 cups sour cream (or plain yogurt)
1 can cream of chicken soup
1/3 cup milk
3 cups cooked, shredded roasted chicken
1 cup crushed corn flakes
2 tablespoons butter (melted)
Directions:
If you are cooking the chicken—Season the chicken breasts on both sides with a little salt and pepper. Place onto a greased baking sheet. Bake in a preheated oven at 350 degrees F. For 30 minutes or until fully cooked (the internal temperature has reached 165 degrees F. Allow the chicken to cool and then shred it using two forks. If you are using a cook rotisserie chicken or leftover cooked chicken, skip this step.
Preheat the oven to 400 degrees F. Place the hash browns onto the bottom of a lightly greased 9x13 inch baking dish. In a large bowl combine cheddar cheese, salt, pepper, peas and carrots, corn, sour cream, cream of chicken soup, milk and cooked shredded chicken. Mix until well combined. Layer the mixture over the potatoes.
In a small bowl mix together melted butter and crushed corn flakes. Sprinkle the corn flakes onto top of the casserole. Place into the oven and bake for 1 hour or until the top is golden brown.