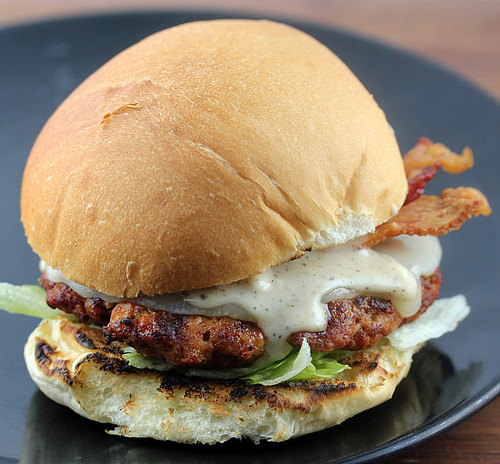 The Alabama smokehouse burger consists of a grilled seasoning pork patty, provolone cheese, bacon, Alabama white barbecue sauce, and iceberg lettuce. The Alabama white sauce really adds a nice flavor to this amazing burger. The BBQ sauce is a combination of mayonnaise, vinegar, lemon juice, sugar, and pepper. The ground pork is mixed with seasonings such as smoked paprika, chili powder and cayenne pepper for a little bit of heat. The original recipe called for smoked Gouda but I used sliced provolone instead. These burgers are best cooked on an outdoor grill but could be pan-fried if needed.
I would also like to mention that Blog Chef is a publisher on Yummly! You can use the Yum button on the bottom of this recipe to save this recipe to your personal recipe box on Yummly. You can view my publisher page on Yummly here: Blog Chef Yummly Publisher Page.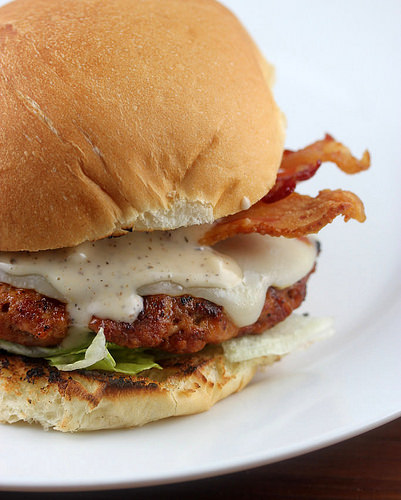 Print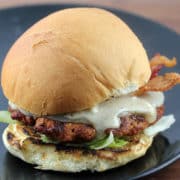 Alabama Smokehouse Burger Recipe
---
For the burgers:
2

pounds ground pork

1 tablespoon

smoked paprika

1 teaspoon

chili powder

1/4 teaspoon

cayenne pepper

1 1/2 teaspoons

salt

1/4 teaspoon

freshly ground black pepper

6

slices smoked Gouda

6

Kaiser rolls, split
2 1/2 cups shredded greens

For the Alabama White Sauce:

3/4 cup

mayonnaise

1/4 cup

apple cider vinegar

1 tablespoon

lemon juice

2 tablespoons

sugar

2 teaspoons

freshly ground black pepper

12

slices bacon, cooked, reserving 1 1/2 tablespoons rendered bacon fat
---
Instructions
To make Alabama White Sauce:
In a small mixing bowl combine the mayonnaise, apple cider vinegar, lemon juice, sugar, and black pepper. Mix until well combined and refrigerate until ready to serve.
To make the burgers:
Combine the pork, paprika, chili powder, cayenne, salt and pepper in a large bowl. Add 1 1/2 tablespoons of the rendered bacon fat from the skillet. Mix well, handling the meat as little as possible to avoid compacting. Divide the mixture into 6 equal portions and form the portions into patties to fit the size of the rolls.
Meanwhile, preheat the grill to medium-high heat. Brush the grill rack with oil to prevent sticking. Arrange the patties on the rack, cover, and cook, turning once just until done, about 4 minutes on each side for medium-rare. During the last few minutes of cooking, top the burgers with equal amounts of Gouda and put the rolls, cut side down, on the outer edges of the rack to lightly toast.
To assemble the burgers, place a generous amount of Alabama white sauce on the cut side of the rolls. On the bottom half of each roll place shredded greens, a cheese-topped patty, and 2 slices of bacon. Cover with the top of the roll and serve.