Baked Bone-in Chicken Breasts Recipe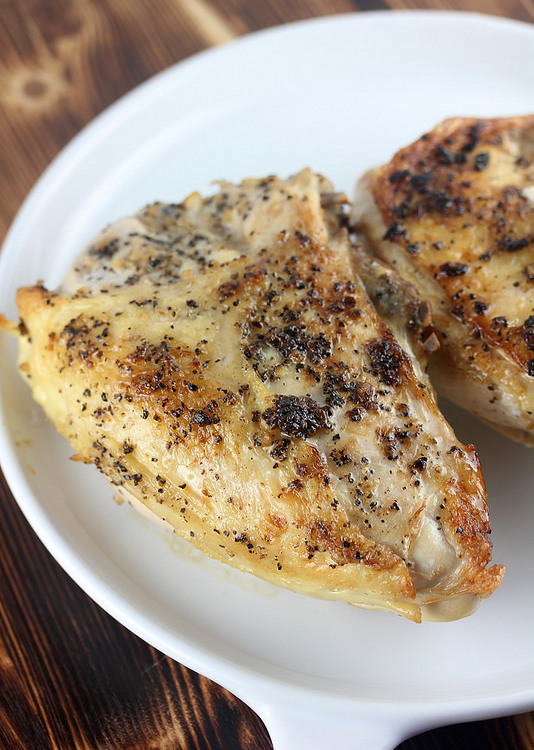 Baked bone-in chicken breasts have a lot more flavor than boneless skinless breasts. I have started using split breasts that are bone-in with the skin-on more and more lately. This chicken is cooked in the oven to perfection. A lot of the flavor in this dish comes from garlic, lemon, salt and pepper. The chicken is easy to prepare and you can serve it with a variety of different side-dishes. You can pound the chicken with a heavy cast iron skillet to thin it out a bit so it will reduce the cooking time. If you can find chicken breasts that are smaller, that would be a good option. Enjoy.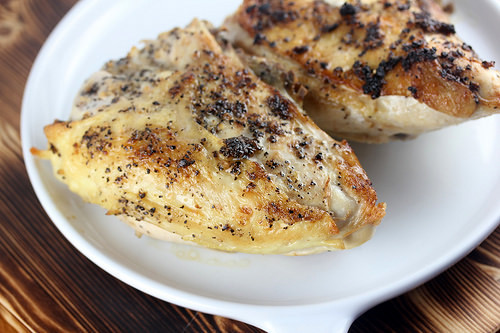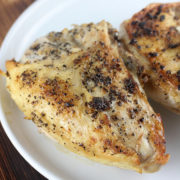 Baked Bone-in Chicken Breasts
Ingredients:
2 garlic cloves (peeled and minced)
zest and juice of 1 lemon
1 teaspoon kosher salt
1 teaspoon ground black pepper
4 chicken breast halves (bone-in, skin-on)
2 tablespoons extra-virgin olive oil
Directions:
In a small bowl combine garlic cloves, lemon juice and zest, salt, and pepper.
Place the chicken breasts one at a time into a gallon zip lock bag and pound with a heavy cast iron skillet to an even 1/2 inch thickness.
Rub the mixture all over the chicken breasts.Make sure to get some under the skin.
Preheat the oven to 400 degrees F. Heat a cast iron skillet over high-heat. Add the olive oil. Add 2 of the chicken breasts, skin-side down, and cook until brown on that one side. Remove from the pan and transfer to a baking sheet. Repeat with remaining breasts.
Place into the oven and bake until chicken is fully cooked, cooking times will vary based on size of the breasts. The chicken is done when the internal temperature has reached 165 degrees F.