Totcho Casserole Recipe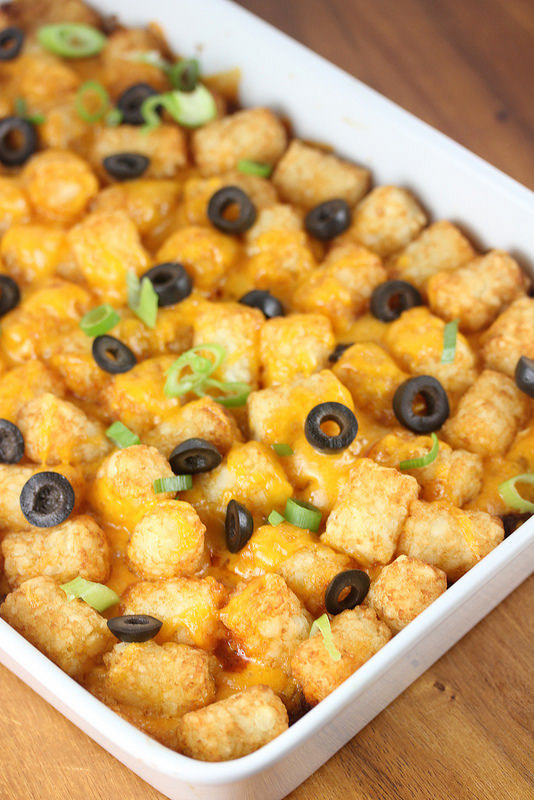 In this delicious recipe tater tots replace tortilla chips to create a totcho casserole. The casserole will serve about 6-8 people and you can even make two of them if you want to serve more. Ground beef is cooked in the pan and then seasoned with taco seasoning and fire roasted tomatoes. The taco meat is layered in a baking dish with refried beans, cheese and tater tots. You can top this casserole with toppings such as jalapeno slices, salsa, olives, green onions and sour cream. Enjoy.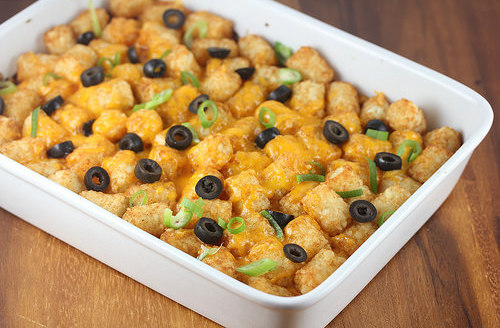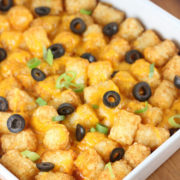 Totcho Casserole
Ingredients:
1 (16 ounce) can refried beans
1lb lean ground beef
1 cup chopped yellow onion
1 (1 ounce) package taco seasoning
1 (14.5 ounce) can fire roasted tomatoes
2 cups shredded cheddar cheese
1 (32 ounce) bag frozen tater tots
Toppings-
green onions
black olives
sour cream
Directions:
Preheat the oven to 400 degrees f. Spray a 9x13 inch baking dish with cooking spray. Spread refried beans evenly onto the bottom of the casserole dish.
Heat a large skillet to medium-high heat. Add the beef and onion and cook, stirring frequently and breaking up into chunks with a spatula until browned. Drain any excess grease. Stir in taco seasoning and tomatoes with juices from the can. Cook and stir until heated through.
Spoon the beef mixture on top of the beans. Sprinkle 1 cup of cheese over the beef. Top with frozen hash browns.
Place into the oven and bake for 35-40 minutes or until heated through and the potatoes are golden brown. Remove from the oven and top with the remaining cup of cheese. Return to the oven and bake for 3-4 minutes or until the cheese has melted.
Let sit 10 minutes before serving. Top with any toppings such as green onion, black olives, and sour cream.