Balsamic Dijon Pork Chops Recipe

Pork chops are an easy and inexpensive dinner to prepare on the grill during the summer. These balsamic Dijon pork chops are grilled and then brushed with a sauce. The sauce is a combination of balsamic vinegar, Dijon mustard, honey, garlic, and a few different spices. I like to use boneless pork chops but using bone-in is fine as well. I like to serve this recipe with a cold pasta salad. Enjoy.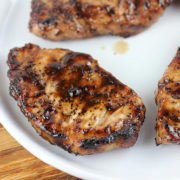 Balsamic Dijon Pork Chops
Ingredients:
4 boneless pork chops
Salt and pepper
¼ cup balsamic vinegar
3 tablespoon honey
2 tablespoons Dijon mustard
2 crushed garlic cloves
½ teaspoon oregano
½ teaspoon basil
½ teaspoon thyme
Directions:
Season the pork chops with salt and pepper.
In a medium sauce pan add the vinegar, garlic, honey, Dijon, oregano, basil, and thyme. Bring to a boil and cook for 2 minutes. Remove from heat and allow the sauce to cool a little.
Lightly grease the grates of an outdoor grill. Preheat the grill to medium-high heat. Add the pork chops and cook while turning and brushing with the sauce frequently until fully cooked (the internal temperature has reached 145 degrees F.). Cooking times will vary depending on the thickness of the pork chops you are using.