Banana Cake Recipe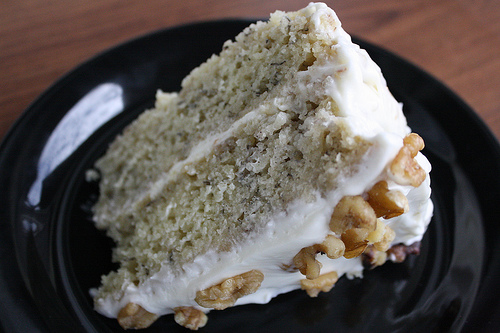 I have posted quite a few cake recipes on this blog but this banana cake has to be one of the best! If you are a fan of banana bread, you will love this cake. The cake is extremely moist and flavorful, and the cream cheese frosting tops it off nicely. I learned a little trick from this recipe as well, if you put the cake in the freezer right after it comes out of the oven, it will make the cake very moist. I highly recommend cooling the cake using this method. I topped the banana cake with chopped walnuts but other nuts would work as well if you prefer. The cake is baked at a low temp of 275 degrees. The oven times here are going to vary so it is important to keep an eye on this cake and check it from time to time with a toothpick. The original recipe called for 1 hour in the oven but it took about an hour and 15 minutes in my oven. This cake is so good it will be all gone in no time! Enjoy.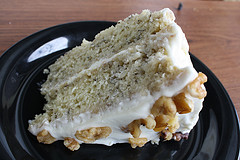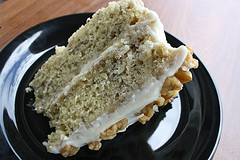 Ingredients:
1 ½ cups ripe bananas (mashed)
2 tablespoons lemon juice
3 cups flour
1 ½ teaspoons baking soda
¼ teaspoon salt
¾ cup butter (softened)
2 1/8 cups sugar
3 eggs
2 teaspoons vanilla extract
1 ½ cups buttermilk
Cream cheese frosting-
½ cup butter (softened)
1 (8 ounce) package cream cheese (softened)
1 teaspoon vanilla extract
3 ½ cups icing sugar
Walnuts (chopped, for garnish)
Cooking Instructions: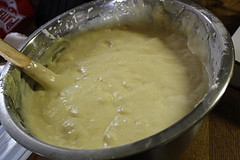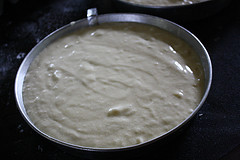 Step 1: Pre-heat the oven to 275 degrees. Grease 2, 8" round baking pans.
Step 2: In a small bowl mix mashed bananas and lemon juice. Set aside. In a medium bowl mix flour, baking soda and salt. Set aside. In a large bowl cream ¾ cups butter and 2 1/8 cups sugar until light and fluffy. Beat in eggs one at a time. Stir in vanilla extract. Beat in the flour mixture alternately with the buttermilk. Stir in banana mixture.
Step 3: Evenly pour batter into 2, 8" round baking pans. Bake for 1 hour to 1 hour and 30 minutes or until a toothpick comes out clean. Between those times keep checking on the cake with a toothpick to see if it's done. When the cake is done take the baking pans and place them directly into the freezer for 45 minutes to cool.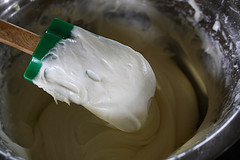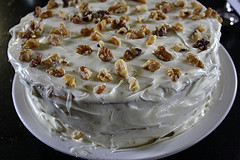 Step 4: While cake is cooling, to make the frosting- In a bowl cream the butter and cream cheese until smooth.  Beat in vanilla extract. Add icing sugar a little at a time and beat on low until combined. Then beat on high until smooth.
Step 5: Remove the cake from the pans and lay out the bottom half on a plate. Spread it fully with frosting. Add the top half and cover the entire cake with frosting. Add chopped walnuts on top.
(Makes 14 Servings)