Big Mac Sauce Recipe

The Big Mac from McDonald's is perhaps one of the most well-known burgers across the country. What makes the Big Mac so special is the secret burger sauce that is used on it. The truth is you can make a sauce that tastes very similar to the sauce used on the Big Mac with just a few simple ingredients, several of which you may already have on hand. This sauce is just a combination of mayonnaise, French dressing, chopped onion, sweet pickle relish, vinegar, sugar, and salt. With this sauce you can make a burger that is much better than a fast-food restaurant could produce. Enjoy.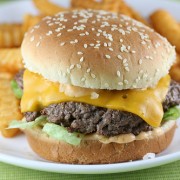 Big Mac Sauce
Ingredients:
½ cup mayonnaise
2 tablespoons French dressing
4 teaspoons sweet pickle relish
1 tablespoon finely minced white onion
1 teaspoon white vinegar
1 teaspoon sugar
1/8 teaspoon salt
Directions:
In a small bowl combine mayonnaise, French dressing, pickle relish, minced onion, vinegar, sugar, and salt. Stir well to combine. Cover and refrigerate for several hours to allow the flavors to blend.
Serve on your favorite homemade burgers.