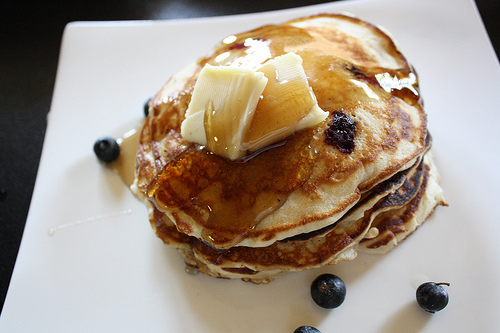 One of the greatest breakfast items is a gigantic stack of blueberry pancakes! These pancakes are very fluffy and delicious, and even better, they are also buttermilk pancakes. I tried a few recipes that used sour cream and was not very impressed, the buttermilk is so much better. One of these days I will have to get a griddle but for now, I am still cooking my pancakes in a cast iron pan. It is important to not over mix the batter. The batter should still have tiny lumps in it when it is going into the pan. This will give you fluffy pancakes. Another good tip if you want evenly distributed blueberries is to press them into the batter after you pour it into the pan. And, of course, it is always a good idea to try not to keep the heat under control so the pancakes don't burn on one side J. If by some chance you don't like blueberries, you can just leave them out, or maybe give my buttermilk pancakes or chocolate chip pancakes a try. Enjoy.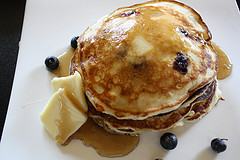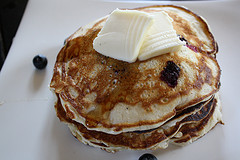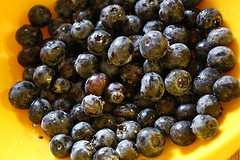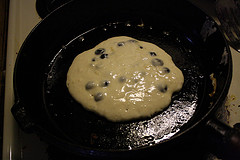 (Makes 12 Pancakes)
Print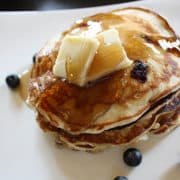 Blueberry Pancakes Recipe
---
2 cups

white flour
A

¼ cup

of sugar

2 ¼ teaspoons

baking powder

½ teaspoon

baking soda

½ teaspoon

salt

2

large eggs (at room temperature)

2 cups

buttermilk

¼ cup

unsalted butter (melted)

1 cup

fresh blueberries (can also use frozen)
Butter or cooking spray (for frying)
---
Instructions
In a large bowl sift together flour, sugar, baking powder, baking soda, and salt.

Allow melted butter to cool down and in another bowl beat eggs and buttermilk together. Whisk in the cooled down melted butter.
With a spoon gently mix the wet ingredients with the dry ingredients. Combine until you have a lumpy batter. Do not over mix.
Heat a pan or griddle to medium-high heat. Add a little butter or cooking spray. Pour a ¼ cup of the batter into the skillet to form a pancake.
Sprinkle the top with blueberries and lightly press them into the pancake. Cook each pancake for about 2 minutes per side.
Remove from the skillet and repeat until all the batter is gone. Keep pancakes warm in the oven while you are making them.