I have seen this recipe for Chinese bourbon chicken literally all over the net and I just had to give it a try to see what everyone was raving about. Apparently, a lot of Chinese take out places have this but I have yet to see it there or at any buffet. What's great is no alcohol actually goes into this recipe. I know what you're thinking… "but then why is it called bourbon chicken?" To be honest, I have no idea, but it tastes great! The sauce has great flavor – just the right amount of sweetness and spice. For the chicken – it's your choice whether you want a little breading on it or not. I just lightly dusted the chicken bits with cornstarch to give them slight crispiness. This is a two-step recipe and takes very little time to prepare. This recipe is best served with a side dish of white rice.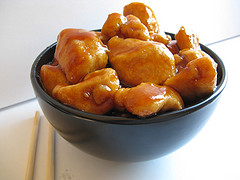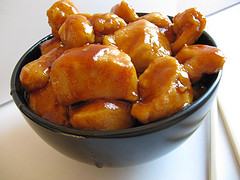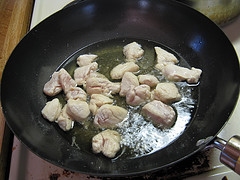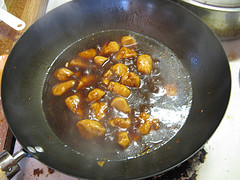 Tags: cooking, recipes, food and drink, recipe
Print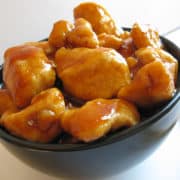 Bourbon Chicken Recipe
---
2lb boneless skinless chicken breasts

oil (for frying)

cornstarch (for dusting, optional)

Sauce-

1 garlic clove (minced)

¼ teaspoon ginger

¾ teaspoon crushed red pepper flakes

¼ cup apple juice

1/3 cup light brown sugar

2 tablespoon ketchup


1 tablespoon

cider vinegar
The ½ cup of water


1/3 cup

soy sauce
---
Instructions
Cut chicken breasts into bite-sized pieces, and if you choose lightly dust with cornstarch. Heat oil in your wok and fry chicken bits in batches until lightly browned. Drain on paper towels and set aside.

In a bowl combine all sauce ingredients. Pour into wok and bring to a boil. Add chicken bits back to the pan, reduce the heat and simmer for 10 minutes.