If you like a crispy chicken tender, you'll love crispy cheddar bacon chicken tenders. They're baked and the cheddar and bacon are incorporated into the coating. It's a brilliant move, really. I wish I would have come up with the idea, but I can't take credit. This recipe was originally published on Progresso.com, but it's since been taken down. Good thing we have it here!
How to make cheddar bacon chicken tenders
1. Prep steps
First, turn your oven on to 400F or 205C. Grab yourself a baking sheet and line it with foil or parchment paper. If you use foil, also brush on some oil or spray the foil with cooking spray. If you don't, you risk losing your crispy coating when you flip the chicken.
If you have chicken tenders, great. If you don't, then slice up a chicken breast into thin pieces. They can be any size — go with what feels right. Smaller pieces have more bacon flavor, while bigger pieces take less time to coat.
2. Set up your assembly line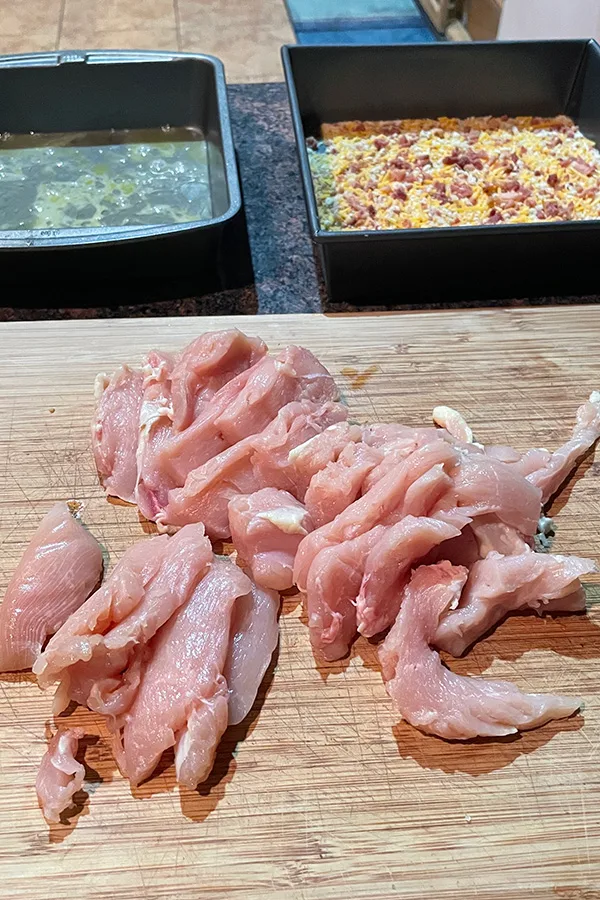 Next, get out two shallow dishes. I like to use pie plates or cake pans. In one, crack an egg. Beat it slightly with a fork. In your other dish, mix 1/2 cup Panko breadcrumbs, 3 oz of cooked bacon bits, and 1/2 cup shredded cheddar.
I'm right-handed, so I like to line up my chicken, two shallow dishes, and prepared baking sheet from left to right.
3. Dip and roll
Using gloved hands or tongs, pick up a piece of chicken and dip it in the egg. Let the excess egg run off. Then transfer the chicken to bread crumb mixture and roll it, pressing gently as you go. Once the chicken is coated on all sides, move it to your prepared baking sheet. Repeat until your chicken pieces are coated (or you run out of the topping).
4. Bake
Depending on how big your tenders are, they should take 15 to 20 minutes to reach an internal temperature of 165F. Plan on flipping them gently after 10 minutes. If you try to flip them and the coating comes off, then you can skip the flip and simply finish cooking them. They will be browner on the bottom side, but otherwise will taste great.
How to serve cheddar bacon chicken tenders
I've made these chicken tenders for dinner, served with homemade ranch dressing. They have so much flavor and texture that you don't really need anything else — other than a cold beer to wash it down.
You could also serve these as an appetizer.
When to serve cheddar bacon chicken tenders
These chicken tenders are a good choice for adults and kids. You might make them for:
Game-day parties
Play dates with kids
Cooking lessons with kids (have them put gloves on and coat the chicken themselves)
Picky adults who don't eat vegetables
Family meals (with a simple green salad or coleslaw on the side)
Substitutions for cheddar bacon chicken tenders
You could jack cheese in lieu of cheddar if that's what you have. Or Gouda would be delicious. I'd stay away from Italian and French cheeses, though. These will be too salty or too flavorful. You don't want to overpower the bacon.
You could also use turkey bacon, cut up into tiny pieces if you're trying to be more healthy. The turkey bacon won't deliver the same crunch as real bacon, though. Fortunately, the Panko does the heavy lifting for the crunchiness in this recipe.
You could also cut lean pork into small pieces and use that instead of the chicken.
Yield: 4 servings
Cheddar Bacon Chicken Tenders Recipe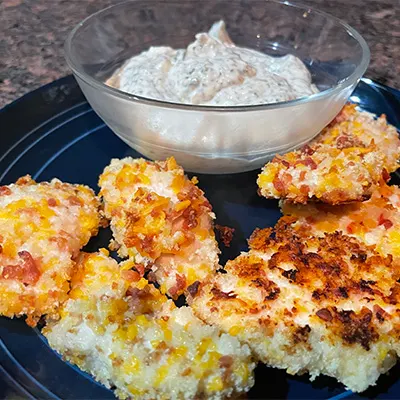 These chicken tenders are great for kids and sports fans! Serve with ranch and they'll disappear fast.
Ingredients
1 egg
½ cup Panko Breadcrumbs
½ cup finely shredded cheddar cheese
1 (3 oz) package cooked real bacon bits
1 (14 oz) package uncooked chicken tenders (not breaded)
Ranch dressing (for serving)
Instructions
Preheat the oven to 400F or 205C. Line a large baking sheet with aluminum foil. Spray the lined cookie sheet with cooking spray.
In a shallow bowl beat the egg. In another shallow bowl or a pie plate, combine bread crumbs, cheddar cheese, and bacon bits.
Dip the chicken tenders first in the egg mixture, then roll in the breadcrumb mixture until evenly coated. Place onto the baking sheet. Repeat until all of the chicken strips are coated.
Bake in your preheated oven for 15 to 20 minutes, turning once, until the chicken is fully cooked (the internal temperature has reached 165 degrees) and the breadcrumbs are golden brown. Serve with Ranch dressing.
Notes
You can easily use boneless, skinless chicken breast in this recipe. Just slice the breast first into tender-sized pieces. I don't like to go too small on the tenders, just because it makes the coating process more tedious.
Recommended Products
As an Amazon Associate and member of other affiliate programs, I earn from qualifying purchases.
Nutrition Information:
Yield:
4
Serving Size:
1
Amount Per Serving:
Calories:

197
Total Fat:

12g
Saturated Fat:

4g
Trans Fat:

0g
Unsaturated Fat:

7g
Cholesterol:

67mg
Sodium:

381mg
Carbohydrates:

13g
Fiber:

1g
Sugar:

1g
Protein:

9g
Nutrition information isn't always accurate.