Cheesy Chicken Burritos Recipe

These cheesy chicken burritos are loaded with seasoned Mexican chicken, beans, cheese, Pico de Gallo and lime rice. This recipe does require a little bit of work to prepare all of the ingredients but it is delicious. The chicken is prepared in the slow cooker with taco seasoning and salsa. The Pico de Gallo is just a simply combination of tomato, cilantro, jalapeno, onion, salt and lime juice. The lime rice gets a lot of flavor from cilantro and fresh lime juice. To make things even better these burritos are rolled up and then grilled in a pan to help the cheese and add a little crunch. Enjoy.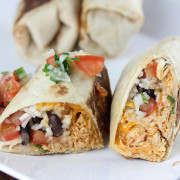 Cheesy Chicken Burritos
Ingredients:
1 lb boneless skinless chicken breasts
1 package taco seasoning
1 cup salsa
1 can black beans (drained and rinsed)
3 cups cheddar jack cheese
6-8 burrito sized tortillas
1 teaspoon olive oil
pinch of chopped cilantro
juice of 1 lime
Cilantro-Lime Rice-
2 cups cooked white rice
2 tablespoons butter
2 cloves garlic minced
3 tablespoons chopped cilantro
Juice of 2 limes
1 teaspoon kosher salt
Pico De Gallo-
3 Roma tomatoes (diced)
1 cup onion (finely diced)
1 jalapeño (seeded and minced)
2 tablespoons fresh chopped cilantro
Salt and pepper (to taste)
Juice of 1 lime
Directions:
Add the chicken to the slow cooker. Sprinkle the taco seasoning over the chicken and pour the salsa over the chicken. Cook for 2 hours on high. When the chicken is done, shred it using two forks and mix the chicken with the juices. Add the juice of 1 lime and a pinch of cilantro and mix again.
Prepare the Pico de Gallo by combining all of the ingredients in a medium bowl. Cover and set aside.
In a large pot add butter and garlic over medium heat. Cook until the garlic is fragrant, about 1 minute. Add the cooked rice and lime juice, cilantro and salt. Mix until well combined.
To make the burritos—Add some shredded chicken to the center of a tortilla. Top with rice and beans. Add about ¼ cup of cheese and some Pico de Gallo. Wrap and set aside. Repeat with remaining tortillas.
Heat a large skillet to medium-low heat. Add olive oil. Add the wrapped burritos, as many as will fit in the pan at time. Heat for 4-5 minutes, turning the burritos every minute so they don't burn until browned on both sides. Repeat with remaining burritos.