Brimming with flavor and offering great versatility, cherry tomatoes are tiny flavor-filled treasures gifted by nature. Despite their small stature, these little fruits add a flavor punch to your culinary creations. Popular cherry tomato recipes include everything from simple, fresh salads to vibrant, savory pastas.
Cherry tomatoes aren't only delicious — they're nutritious, too. Read on to learn more about the health advantages of cherry tomatoes plus three easy recipes that are sure to impress friends and family. Five minutes from now, you'll be ready to start experimenting with versatile and tasty cherry tomatoes.
7 health advantages of cherry tomatoes
Cherry tomatoes are small powerhouses of nutrition, delivering these 7 health benefits according to the internet:
Lycopene-abundance: Webmd reports that cherry tomatoes are loaded with lycopene, an effective fighter against disease-causing free radicals. Besides limiting the damage caused by UV radiation to your skin, lycopene also promotes better cardiac health.
Vitamins and minerals galore: Cherry tomatoes contain many vitamins and minerals, such as vitamin A, vitamin C, calcium, manganese, phosphorus, and potassium, according to Healthline.
Antioxidant effects: Slurrp reports that certain compounds present in cherry tomatoes combat oxidative stress, an imbalance between antioxidants and free radicals in your body. Oxidative stress is linked to several conditions like cancer, diabetes, and heart and kidney diseases.
Potential heart health improvement: Plant compounds in cherry tomatoes may protect the endothelial cells that line your blood vessels, thereby combating heart disease. They also prevent platelets from clumping in your blood, which reduces the risk of blood clots and subsequent heart attack or stroke.
Low in calories and rich in fiber: Low-calorie, high-fiber foods are ideal components to a healthy diet.
Potential stroke risk reduction: The lycopene in cherry tomatoes helps with issues like inflammation and blood clotting. That reduces the risk of ischemic strokes, which occur when blood clots impede blood flow to the brain.
Potential bone health improvement: The lycopene in cherry tomatoes also boosts bone health, according to WebMD.
Versatility of cherry tomatoes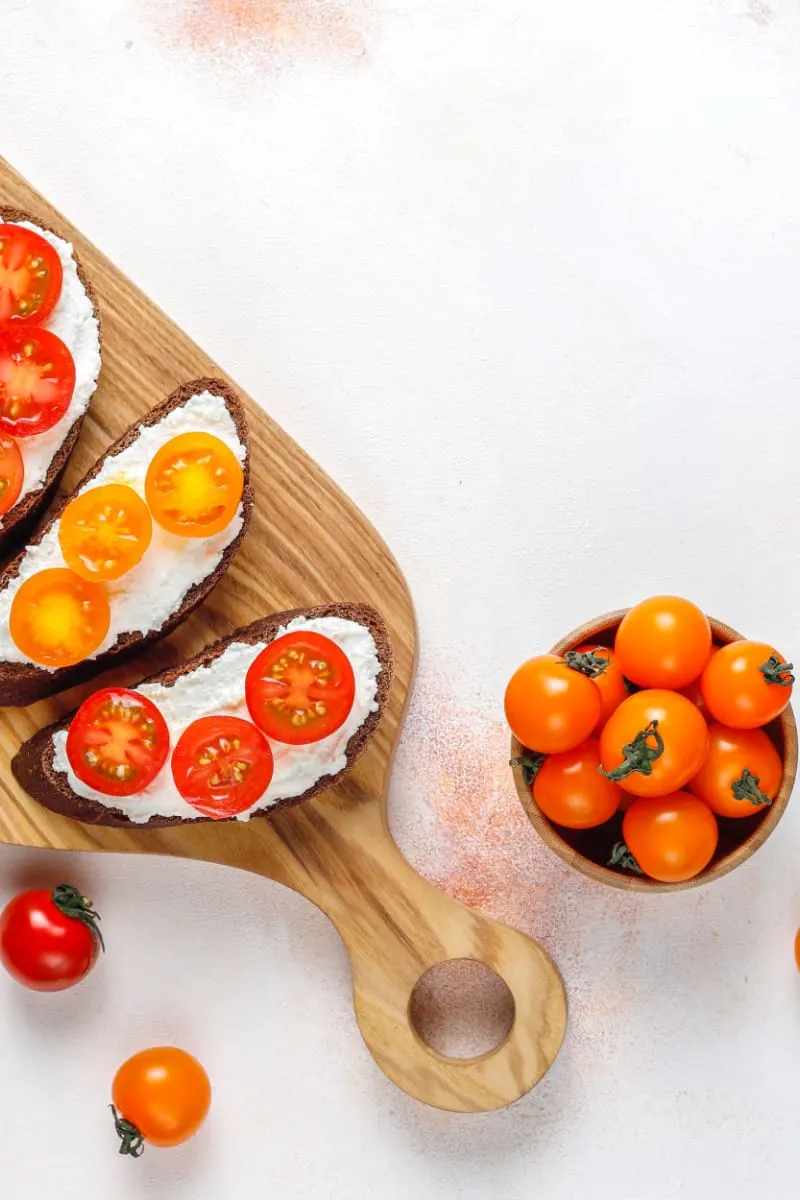 Health benefits aside, there are other reasons to get comfortable using cherry tomatoes in your cooking. The headlining benefit is versatility. For example:
You can use cherry tomatoes raw or cooked, depending on the desired flavor profile.
You can achieve different flavors by changing up the cooking method. Cherry tomatoes roasted in olive oil will taste different from smoked cherry tomatoes, for example.
You can keep cherry tomatoes in the freezer! Freezing cherry tomatoes gives you year-round access to this fabulous ingredient.
3 fab cherry tomato recipes
Ready to start experimenting with cherry tomatoes? Start with these three recipes!
Pasta with cherry tomatoes
Here's an easy recipe for cherry tomato and basil pasta from feelgoodfoodie.com.
Ingredients:
1 pound pasta
2 pints cherry tomatoes
4 cloves garlic (minced)
1/4 cup extra-virgin olive oil
Salt and pepper – to taste
Fresh basil leaves (chopped)
Parmesan cheese (grated)
Instructions:
Cook the pasta as per the package instructions until it is al dente.
In a large skillet, heat the olive oil over medium heat while the pasta cooks.
Sauté the minced garlic in the skillet until it becomes fragrant, which should take about 1 minute.
Add the cherry tomatoes to the skillet and sauté them until they start to burst and release their juices; usually about 8-10 minutes.
Season the tomato sauce with salt and pepper to taste.
Drain the cooked pasta and mix it with the tomato sauce in the skillet.
Toss the pasta with the sauce so it is thoroughly coated.
That's it! Serve the pasta hot and garnished with freshly chopped basil and grated Parmesan cheese.
Cherry tomato confit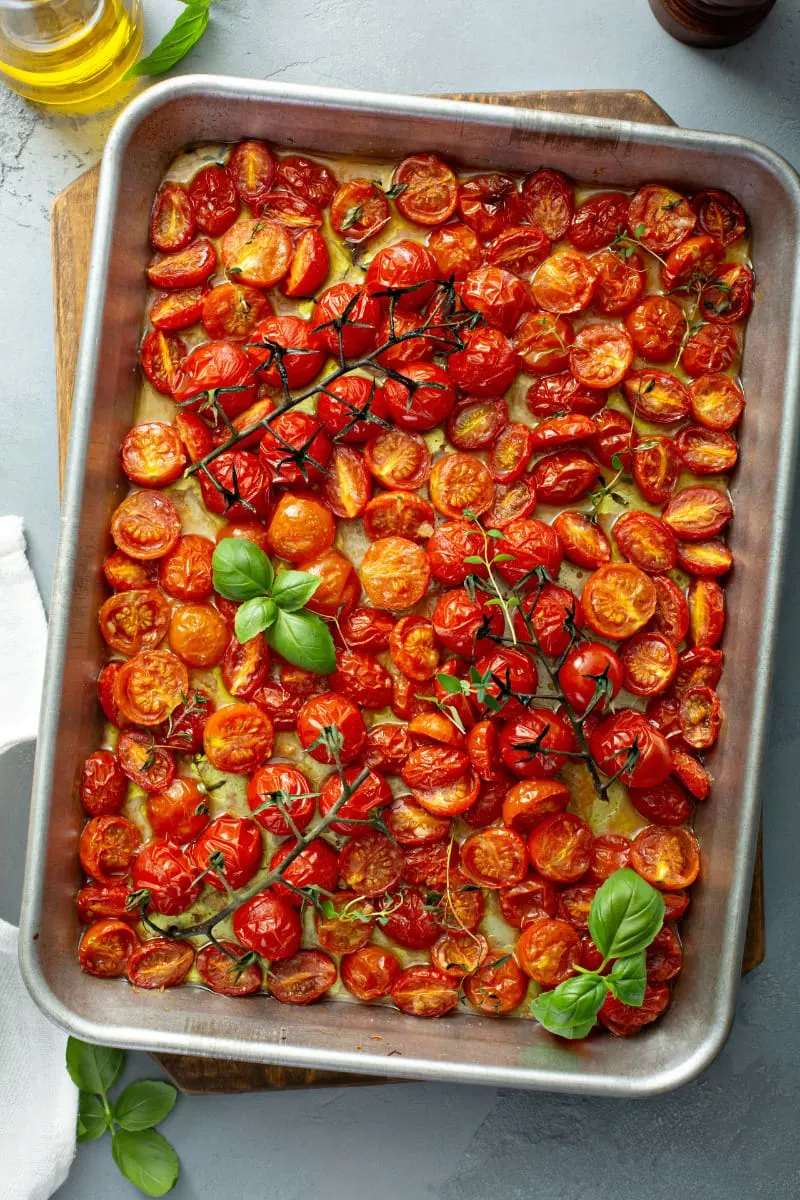 This cherry tomato confit by gypsyplate.com is a flavor bomb you can use in many ways, such as:
a topping for crostini or bruschetta
mixed into pasta or grain bowls, as a pizza topping
a condiment for sandwiches or burgers
a side dish for grilled meats or fish
Ingredients:
2-3 pounds cherry tomatoes
1/2 to 1 cup olive oil
4-5 cloves garlic, thinly sliced
Fresh herbs (thyme, rosemary, or basil)
Salt and pepper to taste
Instructions:
Preheat the oven to 300°F (150°C).
Wash and pat dry the cherry tomatoes.
Place the cherry tomatoes in a baking dish or oven-safe skillet in a single layer.
Add the thinly sliced garlic, your chosen fresh herbs, and salt and pepper to taste.
Pour the olive oil over the cherry tomatoes until they are half-covered.
Bake in the preheated oven for 2-3 hours until the cherry tomatoes are soft and wrinkled. The slow roasting process allows the flavors to intensify.
Remove the baking dish out of the oven and let the cherry tomatoes cool a bit.
Use the roasted cherry tomatoes immediately, or keep them for future use.
To store, put the cherry tomato confit in an airtight container and keep it in the fridge for up to 1 week.
Garlic roasted cherry tomatoes
Here's a simple recipe for garlic roasted cherry tomatoes from thenovicechefblog.com.
Ingredients:
3 cups cherry tomatoes (halved)
3 large cloves garlic – crushed and sliced
1 tbsp extra-virgin olive oil
1/2 tsp kosher salt
1/4 tsp black pepper
Fresh basil leaves (chopped)
Instructions:
Preheat the oven to 400°F (200°C).
Spread the cherry tomatoes in a single layer on a baking sheet.
Drizzle the olive oil over the cherry tomatoes and sprinkle them with crushed and sliced garlic, kosher salt, and black pepper.
Toss the cherry tomatoes gently to ensure they are evenly coated with the oil and seasonings.
Roast the cherry tomatoes in the preheated oven for 20-25 minutes until they are soft and slightly caramelized. The roasting process will enhance their flavors.
Remove the cherry tomatoes from the oven and let them cool slightly.
Garnish the garlic-roasted cherry tomatoes with chopped fresh basil.
Serve the roasted cherry tomatoes warm as a side dish; add them to salads or pasta dishes, or use them as a topping for pizza or bruschetta.
The combination of garlic and olive oil enriches the cherry tomatoes with a savory flavor while roasting heightens their natural sweetness.
You can customize this recipe by adding other herbs or spices according to your preference. Indulge in the versatile and delicious garlic-roasted cherry tomatoes in your favorite dishes!
FAQs about cherry tomato recipes
What is the best way to select ripe cherry tomatoes?
Select cherry tomatoes that are uniformly ripe, slightly soft, and (if you're picking them) detach easily from the plant when picked. You can harvest cherry tomatoes using a cluster snip or wait a few days after the color begins to change for the best flavor.
Are cherry tomatoes good for weight loss?
Yes, cherry tomatoes can be beneficial for weight loss since they are low in calories and high in fiber, vitamins, and antioxidants. Because they have high fiber, they can help you feel satisfied without taking in a lot of calories.
Can grape tomatoes substitute cherry tomatoes?
Yes, grape tomatoes can substitute for cherry tomatoes in most recipes, like salads. Just know that grape tomatoes are slightly larger than cherry tomatoes, so you might have to cut them into smaller pieces. Other alternatives to cherry tomatoes include plum tomatoes, Campari tomatoes, on-the-vine tomatoes, red pear tomatoes, currant tomatoes, sun-dried tomatoes, and canned tomatoes.