Chicken Carbonara Recipe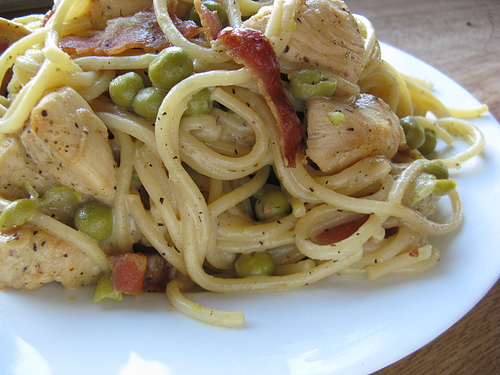 It's been awhile since I had some Italian food and Chicken Carbonara sounded great, and indeed it was. If you are not familiar with chicken carbonara is it basically a type of chicken spaghetti. Pasta noodles, with chicken and bacon in a delicious parmesan sauce. Now does that sound good or what? When I first looked at the recipe I thought it was going to take along time but surprisingly everything went smoothly and I had it on the table pretty quick. The only other thing I added to the recipe was peas, but mushrooms and onions would be a great addition as well. Now the recipe does call for raw eggs in the sauce so what you are going to want to do is mix the sauce in the piping hot noodles right after you drain them. This will kill any bacteria. Serving with garlic bread is a must. Enjoy.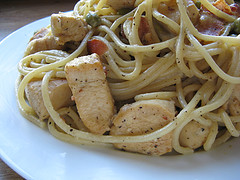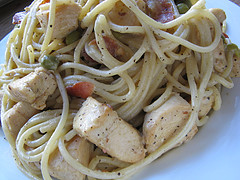 Ingredients:
1lb boneless skinless chicken breasts (cut into bit size pieces)
½ lb bacon
12 ounces spaghetti noodles
½ cup parmesan cheese
2 eggs
¼ cup heavy cream
½ teaspoon salt
½ teaspoon pepper
¼ cup white wine
¼ cup chicken broth
1 tablespoon lemon juice
1 cup frozen peas
Cooking Instructions: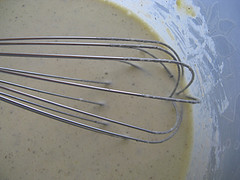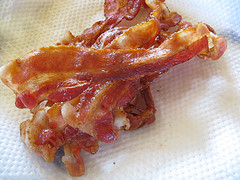 Step 1: In a small bowl mix together parmesan cheese, eggs, heavy cream, salt and pepper. In another bowl mix together wine, chicken broth and lemon juice. Set both aside.
Step 2: Bring a pot of water to a boil for cooking the noodles.
Step 3: In a large skillet cook bacon in batches until crispy. Drain on paper towels.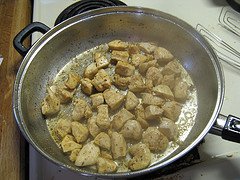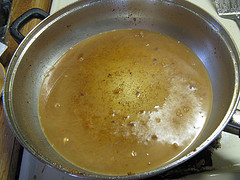 Step 4: Fry chicken pieces in bacon fat until fully cooked. Drain on paper towels.
 Step 5: Deglaze the pan with wine mixture scraping up any bits on the bottom of the pan. Cook for about 2-3 minutes. Place noodles in boiling water and cook according to package directions.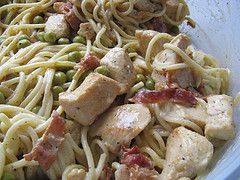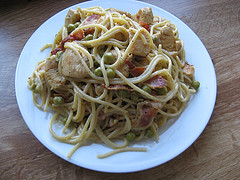 Step 6: While noodles are cooking crumble bacon slices into bits and in a large bowl mix chicken, bacon bits, wine glaze mixture, and parmesan/egg mixture. Drain noodles and shake to get rid of any extra water.
Step 7: Add peas and egg mixture to piping hot noodles and mix well.