Chicken Chimichangas Recipe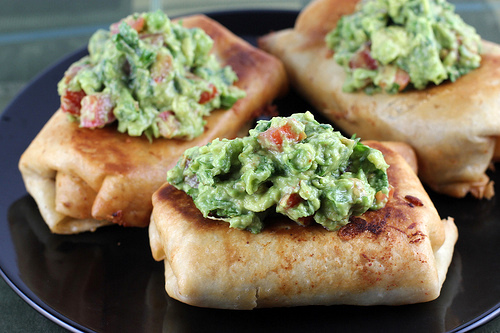 Chicken chimichangas require a little work but they are definitely worth it. I actually prefer these over the beef chimichangas.  Tortillas are filled with a mixture, rolled, and then fried in oil. The filling mixture consists of ingredients such as chicken, rice, refried beans, and black olives. After the chimichangas are fried they are topped with a avocado mixture. This mixture is very similar to guacamole. I feel both the sour cream and guacamole mixture are very important to the overall flavor of this dish. If you are looking for an excellent recipe for chimichangas give this one a try. Enjoy.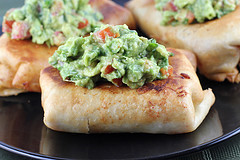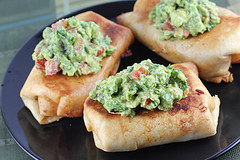 Ingredients:
1 ½ cups chicken broth
1 cup uncooked long grain white rice
½ cup red enchilada sauce
1 ½ onion (diced, divided)
6 (12 inch) flour tortillas
4 cups shredded cooked chicken breast
1 pound Monterey jack cheese (shredded)
1 (6 ounce) can sliced black olives
4 cups refried beans
¼ cup vegetable oil
Avocado topping-
3 avocados (peeled and pitted)
½ cup cilantro (finely chopped)
2 tablespoons lemon juice
3 green onions (diced)
¼ cup jalapeno chile peppers
1 tomato (diced)
2 cups shredded lettuce
1 cup sour cream
2 cups shredded cheddar cheese
Cooking Instructions: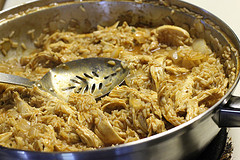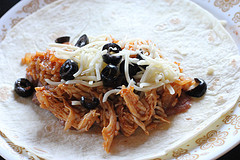 Step 1: In a medium saucepan combine chicken broth, rice, enchilada sauce, and diced onion. Bring to a boil, and reduce heat to low and let it simmer for about 20 minutes or until the rice is tender. Stir in shredded cooked chicken and mix well.
Step 2: Heat refried beans in a saucepan over low heat until they stir easily. Heat tortillas in a large skillet or in the microwave so that they fold easily.
Step 3: Spoon equal amounts of refried beans onto each tortillas followed by equal amounts of the chicken/rice mixture, Monterey jack cheese, and black olives. Roll up the tortillas¸while tucking in the sides. Secure the wrapped tortillas with a toothpick.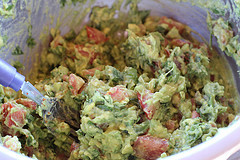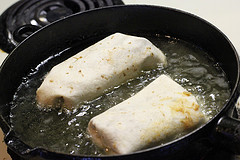 Step 4: Heat oil in a large skillet and fry the filled tortillas, turning once, until browned on both sides. Drain on paper towels.
Step 5: To make guacamole- in a medium bowl mash together avocados and lemon juice. Stir in cilantro, green onions, jalapeño peppers, and tomatoes. Top chimichangas with cheddar cheese, guacamole and sour cream.
(Makes 6 Servings)