Chicken Enchilada Penne Casserole Recipe

With this delicious casserole you can have the flavor of chicken enchiladas combined with penne pasta! This recipe takes a little bit of work to prepare but it is well worth the effort. The chicken is shredded and then mixed with taco seasoning, enchilada sauce and green chilies. The penne pasta is like a mac and cheese. The pasta is tossed with a homemade cheese sauce. Cheesy pasta and shredded chicken are then layered in a baking cheese with cheese and baked to perfection. You can top this casserole with green onions, cilantro and crushed tortilla chips. Enjoy.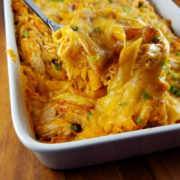 Chicken Enchilada Penne Casserole
Ingredients:
12 ounces penne pasta
12 ounces Velveeta cheese (cut into 1 inch cubes)
2 cups shredded Colby-jack cheese
1 cup milk
3 cups shredded cooked chicken
1 (19 ounce) can enchilada sauce
1 (4.5 ounce) can chopped green chiles
4 tablespoons butter (melted)
1 package taco seasoning mix
2 tablespoons sliced green onions
Directions:
Heat the oven to 375 degrees F. Spray a 9x13 inch baking dish with cooking spray. Cook the penne pasta according to package directions for the minimum cooking time. Drain and set aside.
While the pasta is cooking, in a large microwavable bowl mix the cheese cubes, 1 cup of the shredded cheese and the milk. Microwave uncovered on high for 4 minutes, stir and then microwave in 30-second intervals until the cheese melts and the mixture can be easily stirred and is smooth.
Gently stir the cooked penne pasta into the cheese sauce. Pour the mixture into the baking dish.
In a large bowl mix the shredded chicken with enchilada sauce, green chiles, butter and taco seasoning mix. Spoon over the pasta in the baking dish. Top with the remaining 1 cup of cheese.
Place into the oven and bake for 28 to 32 minutes or until bubbling at the edges and an internal temperature of 165 degrees F. in the center. Remove from the oven. Let stand 5 minutes. Top with green onions.