You may know there are various substitutes for cornstarch, but which is the best cornstarch substitute for frying? You don't want to forgo that crispy, light texture on your friend foods just because you ran out of cornstarch.
The best cornstarch substitute for frying is potato starch. Like cornstarch, it can withstand high temperatures, it delivers a crunchy texture when fried, and it's gluten-free.
Of course, there may be reasons why potato starch isn't an option for you. For example, you'll want to use a different cornstarch substitute if you're on a keto diet. (In that case, see these posts: keto-friendly cornstarch substitutes for frying and keto-friendly cornstarch substitutes for thickening sauces.) Or maybe you don't have potato starch on hand, either.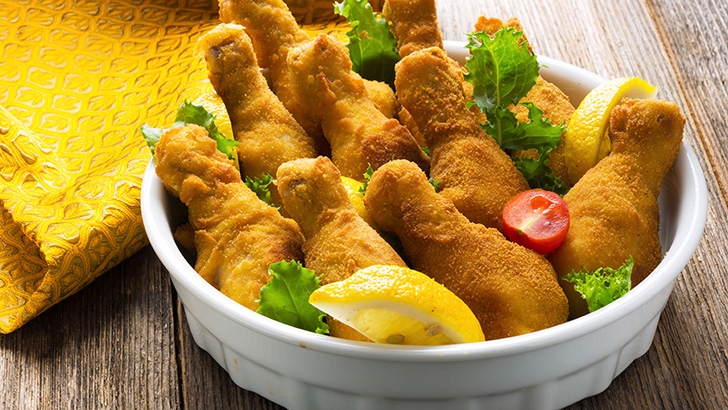 Don't worry. We have you covered. Here are five cornstarch substitutes that will work, to varying degrees, in your deep-fried dishes.
1. Deep fry with all-purpose flour instead of cornstarch
Both flour and Cornstarch are used to coat chicken, fish, and vegetables before deep-frying. Cornstarch typically makes for a crispier finish than flour.
Also, cornstarch absorbs moisture from the food and expands. When the food is fried, the moisture cooks out of the cornstarch, leaving a crackly, puffy coating on the outside. This is why so many Asian fried recipes call for using cornstarch instead of flour.
The flour will achieve this to some extent but the texture will be different. More flour is needed to achieve the same effect, so the coating will be thicker and chewier. Recipes touting the crispiest chicken will often call for a 50/50 mix of flour and cornstarch to create the perfect balance and a beautiful brown exterior.
In a pinch, you could use all-purpose flour or wheat flour to replace cornstarch in your frying recipes. Use double the amount of flour. Wheat flour is the more nutritious option. Note that both contain gluten.
2. Deep fry with rice flour instead of cornstarch
Naturevibe Botanicals Organic Brown Rice Flour (2lbs) | Gluten Free | Rich in Protein | Used for Cooking [Packaging may Vary]
This versatile flour is the perfect complement to your favorite recipes and can be used to make a variety of cakes, cookies and breads.
Brown Rice Flour is gluten free, dairy free, nut free, corn free, and soy free.
Perfect for restaurants, food service, camps, schools, chef's.
Our Brown Rice Flour has a mild, slightly nutty taste that is a great addition to baking and cooking. Try swapping it out for whole wheat flour in pancakes or muffins!
Naturevibe Botanicals Brown Rice Flour comes in a resealable pouch. Reseal after every use.
Rice flour is another substitute for cornstarch that works for frying. Rice flour is widely used in Asian cuisine for noodles, soups, and desserts. It's extracted from finely ground rice until a refined white starch is produced.
Rice flour is also gluten-free. Unlike cornstarch, rice flour can be diluted with either hot or cold water.
To achieve the same consistency as cornstarch, use 2 tablespoons of rice flour to replace 1 tablespoon of cornstarch. This substitute won't give the same crunch as Cornstarch will, but it will pass a decent substitute.
3. Try arrowroot powder as a cornstarch replacement
Arrowroot powder works well as a cornstarch replacement in deep-fried recipes. It results in a similar light, crispy texture. You can also mix arrowroot with other flours — including all-purpose flour — to produce a finer crisp than you'd get with flour alone.
For frying recipes, the substitution ratio is about 1:1. Adjust if you need to. The important thing is to make sure your foods are fully coated with arrowroot before frying.
4. Tapioca starch
Bob's Red Mill Finely Ground Tapioca Flour, 16-ounce (Pack of 4)
WHOLESOME GOODNESS: This starchy, slightly sweet flour is a staple in gluten free baking and a fantastic thickening agent in soups, sauces and pie fillings
GLUTEN FREE: To assure the integrity of our gluten free products, we've built a separate 100% gluten free facility and batch test in our quality control laboratory using an ELISA Gluten Assay test
PALEO FRIENDLY: Suitable for people who follow a paleo, primal or other grain-free diet
NON-GMO: Non-GMO Project Verified; we've always been committed to sourcing raw materials that are not modified through genetic engineering
BOB'S RED MILL: Make folks a little happier: it's the idea that keeps our stone mills grinding to fill every bag with wholesome goodness
Tapioca starch resembles cornstarch in color and form. When frying, you can swap in tapioca in the same quantity as cornstarch.
5. Potato starch is the best cornstarch substitute for frying
Roots Circle Gluten-Free Potato Starch | 1 Pack of 21oz Jar 100% Pure Potato Flour No Preservatives or Artificial Ingredients | Kosher for Passover Thickener for Soups Stews, Gravies & Sauces
NATURE'S HEALTHY, VERSATILE 'RESISTANT STARCH': Trusted by chefs and cooks for generations, potato starch is more flavorful, versatile and heat-friendly than cornstarch, arrowroot and others. As a resistant starch, it naturally ferments in the large intestine to function as a healthy prebiotic.
MADE WITH 100% POTATOES AND NOTHING ELSE: Roots Circle is a promise of purity, so you know nothing but the best makes it into your food. Our potato flour is made of pure powered potatoes, without the addition of preservatives, artificial ingredients, cheap fillers, or anti-caking agents.
THE SECRET TO GREAT SAUCES, GRAVIES & PASTRIES: Even one teaspoon of our fine potato starch can add beautiful viscosity and body to your favorite dishes. From pan sauces to roasts, from pancakes to tiramisu fingers, from soufflés to cakes, your imagination is the final ingredient.
GLUTEN-FREE, VEGAN, PALEO & WHOLE30 FRIENDLY: Accomplish a world of health progress and cooking improvement with this undeniable household staple. Control your weight, enrich your culinary skills, and serve your family healthy, good-for-all foods made with the purest ingredients.
EASY-STORAGE RESEALABLE CONTAINER FOR FRESHNESS: Each pantry-friendly container has an extra wide lid for easy scooping. The top clicks tightly in place to lock in freshness and keep moisture out, so you always have the best potato starch handy.
A popular ingredient in Passover recipes, potato starch is also an excellent replacement for cornstarch. It works especially well in fried recipes, mimicking the capabilities and textures of cornstarch. Use it as you would cornstarch, substituting in equal amounts to coat your foods before frying, air frying, stir frying, or roasting.
Frequently asked questions [FAQs] about cornstarch substitutes for frying
Is cornstarch good for frying?
Yes, it is. Ideally, you'd use cornstarch or a mix of cornstarch and flour to coat foods before frying them. Chinese cooking uses cornstarch for frying to yield a light yet crispy crust. You can also dust foods with cornstarch before baking at high heats or air frying. Try this with sweet potatoes!
Cornstarch works better than 100% all-purpose flour. The flour can take too long to crisp up, resulting in over-cooked or oil-logged fried foods.
Can you mix cornstarch and flour for frying?
Yes, you can mix cornstarch with all-purpose flour or wheat flour. The combination of the flour with cornstarch produces a crispy texture. For a gluten-free recipe, you can simply replace all the flour with cornstarch.
Replacing cornstarch in fried recipes
Cornstarch is great as a coating for fried chicken, fried fish, or other fried dishes. Cornstarch will create a crisper coating that will hold up to sauces better and will absorb less of the frying oil. If you don't have cornstarch on hand, the top replacements are potato starch, tapioca flour, or arrowroot powder.
Last update on 2022-12-04 / Affiliate links / Images from Amazon Product Advertising API