Crispy Cheddar Chicken Recipe

Crispy cheddar chicken is one of those dishes that uses a few basic ingredients to create something that is incredibly tasty. There is nothing complex about this recipe—the chicken is dipped first into milk and then rolled in a crushed Ritz cracker and cheddar cheese mixture. The breaded chicken is placed into the oven and baked to perfection. Once the chicken is removed from the oven is it topped off with a sauce that is a combination of cream of chicken soup, butter, and sour cream. This recipe makes a great dinner for any night of the week. I like to serve this dish with wild rice. Enjoy.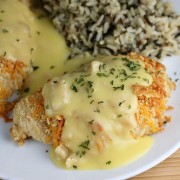 Crispy Cheddar Chicken
Ingredients:
4 boneless skinless chicken breasts
2 sleeves of Ritz crackers
¼ teaspoon salt
1/8 teaspoon ground black pepper
½ cup milk
3 cups shredded cheddar cheese
1 teaspoon dried parsley
Sauce-
1 (10 ounce) can cream of chicken soup
2 tablespoons sour cream
2 tablespoons butter
Directions:
Preheat the oven to 400 Degrees F. In a food processor grind up the Ritz crackers until fine crumbs are formed. Pour the milk into a shallow dish or pie plate. In another shallow dish or pie plate add the cheddar cheese and in another shallow dish or pie plate add the crushed Ritz crackers, ¼ teaspoon salt and 1/8 teaspoon ground black pepper.
Dip each chicken piece first into the milk, and then roll in the cheese and press the cheese onto the chicken using your fingers. Now press the chicken into the cracker crumb and press it in. Place the chicken pieces into a greased casserole dish. Sprinkle dried parsley over the chicken.
Cover the casserole dish with foil and bake at 400 degrees F. for 35 minutes. Remove the tin foil and bake for an additional  10 minutes or until the edges of the chicken are golden brown and crispy and the chicken is fully cooked (the internal temperature has reached 165 degrees F.).
In a medium saucepan combine the cream of chicken soup, sour cream and butter. Whisk over medium-high heat until the sauce is nice and hot. Serve over the chicken.