Dijon Ham Steak Recipe

This Dijon ham steak is a great recipe to prepare for dinner or Easter. What I like about ham steak is that it is easy and quick to prepare. This recipe is very simple and will be finished in no time at all. The ham is fried in a skillet while being brushed with a Dijon and maple syrup glaze. The glaze is a combination of Dijon mustard, maple syrup, rice vinegar and chicken broth. All of the glaze ingredients are mixed in a bowl. I like to serve this ham steak with a salad and mashed potatoes and gravy. This glaze will also be great on chicken or pork chops. Enjoy.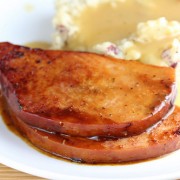 Dijon Ham Steak
Ingredients:
2  (1lb) ham steaks
½ cup Dijon mustard
½ cup pure  maple syrup
2 tablespoons rice vinegar
¼ cup chicken broth
Directions:
In a medium bowl whisk together mustard, maple syrup, rice vinegar, and chicken broth.
Heat a large skillet to medium heat. Brush some of the glaze onto one side of the ham steak and place glazed side down into the skillet. Brush some of the glaze on top of the ham steak. Cook over medium heat, turning frequently and brushing with the glaze until cooked through and the glaze has thickened.