Fiesta Lime Chicken Recipe

Here is a copycat recipe for the Fiesta Lime Chicken at Applebee's restaurant. This dish consists of marinated grilled chicken that is topped with a slightly spicy sauce, cheese, and Pico de Gallo. The chicken is marinated in ingredients such as teriyaki sauce and lime juice. The sauce gets a lot of its flavor from salsa, hot sauce, and Cajun seasoning. You can use less Cajun seasoning if you are not a fan of spicy foods. The Pico de Gallo is just a simple combination of tomatoes, red onion, jalapeno pepper, salt and lime juice. The best method to cook the chicken is on an outdoor grill but an indoor grill pan will work as well. You can serve this recipe with tortilla chips and rice. Enjoy.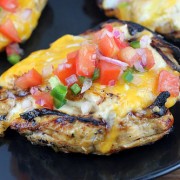 Fiesta Lime Chicken
Ingredients:
4 boneless skinless chicken breasts
1 cup water
1/3 cup teriyaki sauce
3 teaspoons garlic
juice from ½ lime
1 tablespoon tequila (optional)
1 tablespoon liquid smoke (or Worcestershire sauce)
½ teaspoon salt
¼ teaspoon ground ginger
Sauce-
1/4 cup mayonnaise
¼ cup sour cream
2 tablespoons salsa
1 tablespoon milk
1 tablespoon Cajun seasoning (or less, to taste)
¼ teaspoon dried parsley
¼ teaspoon hot sauce
2 cups shredded Colby-jack cheese
Pico de Gallo-
3 roma tomatoes (seeded and chopped)
½ red onion (finely chopped)
1 jalapeno pepper (stemmed, seeded and chopped)
2 tablespoons fresh lime juice
salt (to taste)
Directions:
In a large bowl or sealable plastic bag combine water, teriyaki sauce, juice of ½ lime, garlic, tequila, liquid smoke, salt and ginger. Place the chicken breasts into the bowl and mix well into the marinade. Cover and refrigerate for at least 1 hour.
To prepare the sauce—in a medium bowl combine mayonnaise, sour cream, salsa, milk, Cajun seasoning, parsley and hot sauce. Cover and refrigerate until needed.
To prepare the Pico de Gallo—in a medium bowl combine tomatoes, red onion and jalapeno pepper. Add 2 tablespoons of lime juice, season with salt and mix well. Cover and refrigerate until needed.
Slightly grease the grates of an outdoor grill. Heat the grill to medium-high heat. Remove the chicken breasts from the marinade and place onto the grill. Cook the chicken turning frequently until fully cooked (the internal temperature has reached 165 degrees F.). During the last few minutes of cooking, brush each chicken breast with the sauce and then sprinkle with cheese. Cook until the cheese has melted.
Remove the chicken from the grill and top with Pico de Gallo for serving.