Grilled Chicken Spice Rub Recipe

Having a good dry spice rub on hand to prepare grilled chicken is a must. This spice rub uses a simple combination of spices to give your grilled chicken a delicious flavor. Sure, salt and pepper is fine but why not even add more flavor with a good dry rub? The best part is you probably have all or most of these ingredients on hand already. This spice rub is a combination of garlic powder, cumin, coriander, paprika, salt and pepper. This recipe makes enough rub to cover about 3 chicken breasts. You can easily prepare this rub in large batches and save some of it for future use. Enjoy.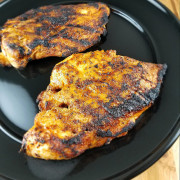 Grilled Chicken Spice Rub
Ingredients:
1 teaspoon garlic powder
1 teaspoon ground cumin
½ teaspoon ground coriander
½ teaspoon smoked paprika
½ teaspoon sea salt
¼ teaspoon ground black pepper
2 tablespoons olive oil
Directions:
In a small bowl combine all of the ingredients and mix until well combined. Use for rubbing on chicken before grilling.