Hamburger Steak with Gravy Recipe

This recipe for hamburger steak and gravy is great to serve for dinner. The hamburger patties are fried in the pan and then the gravy is prepared. The hamburger gets a lot of flavor from Worcestershire sauce, ketchup and mustard. The real highlight of this recipe is the delicious gravy. The gravy is easy to prepare and consists mostly of beef broth with some garlic, Worcestershire sauce and a few other ingredients. You can serve this recipe with mashed potatoes or egg noodles. You can also add some sliced mushrooms if you want. Enjoy.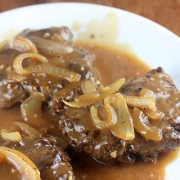 Hamburger Steak with Gravy
Ingredients:
2lbs ground beef
½ cup seasoned breadcrumbs
2 teaspoons dry mustard
1 teaspoon beef bouillon
2 teaspoons Worcestershire sauce
1 tablespoon ketchup
½ teaspoon salt
¼ teaspoon ground black pepper
2 tablespoons vegetable oil
Gravy-
2 onions (sliced)
1 tablespoon minced garlic
1 tablespoon ketchup
1 teaspoon beef bouillon
2 tablespoons all purpose flour
2 teaspoons Worcestershire sauce
2 cups beef broth
Directions:
In a large bowl combine ground beef, breadcrumbs, dry mustard, 1 teaspoon beef bouillon, 2 teaspoons Worcestershire sauce, ketchup, salt, pepper. Mix well and form the mixture into 8 patties. Heat vegetable oil in a large deep skillet over medium-high heat. Add the beef patties and cook until both sides are browned. Remove from the pan.
Add the onions and cook for several minutes, until very soft, stirring occasionally. Add the minced garlic and cook while stirring for 1 minute. Add 2 tablespoons of flour and whisk constantly for 1 minute or until the flour begins to turn brown. Add beef broth, 2 teaspoon Worcestershire sauce, 1 teaspoon beef bouillon, and 1 tablespoon ketchup. Keep whisking for a minute and then add the hamburger steaks back to the pan. Cover and simmer on low for 20 minutes or until the hamburgers are fully cooked (the internal temperature has reached 165 degrees F.), adding additional beef broth if the gravy becomes too thick.