Slow Cooker Pork Chops Recipe

Pork chops are great when prepared in the slow cooker. This recipe is for boneless pork chops that are cooked in the crockpot with a delicious sauce. The sauce uses Asian style ingredients such as red chili paste and soy sauce to get most of its flavor. The sauce is thickened with a cornstarch and water mixture near the end of the cooking time. These pork chops are great to serve with rice on the side. Enjoy.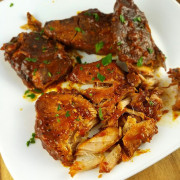 Slow Cooker Pork Chops
Ingredients:
½ cup brown sugar
½ cup ketchup
¼ cup soy sauce
1-3 tablespoons red chile paste
1 teaspoon minced garlic
1 teaspoon ground black pepper
½ teaspoon kosher salt
3lbs boneless pork chops
2 tablespoons cornstarch
Directions:
In a slow cooker combine brown sugar, ketchup, soy sauce, red chile paste, garlic, black pepper and salt. Mix until well combine. Add the pork chops and toss to coat with the sauce. Cover and cook on low for 6 hours.
After 6 hours, combine 2 tablespoons of cornstarch with 2 tablespoons of water. Mix well. Add to the crockpot and stir. Cover and cook for an additional hour.