Hillbilly Fries Recipe

These hillbilly fries are loaded with country gravy, cheese, bacon and green onion. This recipe makes things easy by using frozen French fries but I like to make my own country gravy. If you want to save even more time you could always use the packaged stuff. These fries make a great appetizer and are perfect to prepare for the upcoming football season. Enjoy.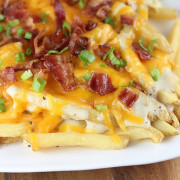 Hillbilly Fries
Ingredients:
1 package frozen French fries
8 strips of bacon (cooked until crispy and crumbled)
2 cups shredded cheddar cheese
4 green onions (chopped)
Country gravy-
¼ cup butter
¼ cup flour
2 cups milk
½ teaspoon salt
½ teaspoon ground black pepper
Directions:
Cook the French fries according to package directions in the oven according to package directions.
In a large deep skillet melt the butter over medium heat. Whisk in the flour and cook stirring constantly until the flour is golden brown. Stir in the milk, a little at a time, and cook while whisking until the mixture has thickened. Stir in salt and pepper.
Once the fries have finished cooking, remove them from the oven. Top them with country gravy, cheddar cheese and bacon. Return to the oven and cook until the cheese has melted. Top with green onions for serving.