Tuscan Chicken Marinade Recipe

If you are looking for a good marinade recipe for chicken, you may want to consider making this Tuscan chicken marinade. It has great flavor and is easy enough to prepare. The Tuscan chicken marinade is used both as a marinade and as a sauce for serving after the chicken is cooked. If you don't want to grill the chicken it can be baked in the oven. This recipe gets a lot of flavor from sundried tomatoes, vinegar, basil and oregano. The marinade is prepared in the blender and then can be used in a ziplock bag with the chicken. Enjoy.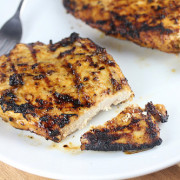 Tuscan Chicken Marinade
Ingredients:
¼ cup sundried tomatoes packed in oil (plus ¼ cup of oil from the jar)
¼ cup warm water
¼ cup red wine vinegar
1 tablespoon grated Parmesan cheese
2 teaspoons Dijon mustard
2 teaspoons minced garlic
¼ cup loosely packed fresh basil leaves
1 tablespoon fresh oregano leaves
¼ cup extra virgin olive oil
Salt and pepper, to taste
1lb boneless skinless chicken breasts
Directions:
Place all of the ingredients for the marinade in a blender and puree until smooth. Pour ¾ cup of the marinade into a large zip lock bag. Reserve about ¼ cup of the marinade for serving. Add the chicken breasts to the bag and marinate for at least 30 minutes or up to overnight.
Lightly grease the grates of an outdoor grill. Preheat the grill to medium-high heat. Remove the chicken from the bag and discard the marinade.
Place the chicken onto the grill and cook for about 5 minutes per side or until the chicken is fully cooked (the internal temperature has reached 165 degrees F.). Serve with the reserved marinade.