Smoked Sausage Spaghetti Recipe

This smoked sausage spaghetti is easy to prepare and makes for a great dinner. The smoked sausage is sliced and then fried in the pan before the sauce is prepared. The sauce is a combination of crushed tomatoes, wine, and various seasonings. Fresh parsley and basil are added to give this dish a nice and fresh flavor. I like to serve this recipe with garlic bread. Enjoy.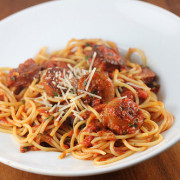 Smoked Sausage Spaghetti
Ingredients:
3 tablespoons plus 1 teaspoon olive oil
13 ounces smoked sausage (cut into slices)
3 teaspoons minced garlic
1 ½ teaspoons crushed red pepper flakes
1 (28 ounce) can crushed tomatoes
½ cup red wine
¾ teaspoon dried oregano
1 teaspoon salt
1lb spaghetti noodles
¼ cup fresh parsley (chopped)
¼ cup fresh basil (chopped)
Directions:
Heat 1 teaspoon of olive oil in a large deep skillet over medium heat. Add the sausage slices in a single layer and cook, turning once until browned on both sides. Remove from the skillet and place onto a plate lined with a paper towel to drain.
Add 3 tablespoons of oil to the skillet and increase the heat to medium-high. Add garlic and red pepper flakes. Stir around and cook for a few seconds. Add crushed tomatoes, wine, oregano, salt and stir. Reduce heat and simmer for 15-18 minutes, stirring occasionally.
Cook the spaghetti noodles according to package directions. Once the spaghetti has finished cooking, drain and add the spaghetti in with the sauce. Add the smoked sausage, parsley and basil and stir.