Making a London broil in the oven at 350°F is a common practice. London broil is meat that is marinated, cooked, and thinly sliced. The meat is relatively rigid in texture and is it's marinated. It could be beef, top round roast, flank steak, or skirt steak. And because it isn't expensive or reserved for special occasions, you can prepare London broil anytime and any day.
Tips on Preparing a Healthy London broil
Do not freeze London broil in the marinade, as much ice can cause the meat to become mushy. Refrigerating is healthier.
When you bring out your meat from the oven, allow it to cool for about 10-15 minutes. During this time, the steak absorbs the juice on the platter, adding more to its flavor.
Slice your London broil against the grain. This method is best because it helps shorten the fibers in the meat, making it easier to chew.
For leftover meat, wrap tightly in plastic and foil. Freeze the cooked meat for three months and use it in sandwiches, salad, or pasta.
Do not overcook your London broil, as this makes it look like leather. In case you overcook your meat. Shred-it, then toss with a liquid sauce to improve its taste. You can use beef broth and add gelatin; it works wonders.
Print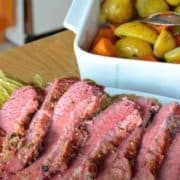 Cooking London broil at 350°F Oven Temperature
---
Description
Many cooks consider 350°F to be the best temperature to cook your London broil if you use an oven. This temperature is most preferred, especially if your oven cooks fast. But most people still don't fully understand how to maneuver their cooking procedures at this oven temperature. So, to have a perfectly oven-flavored and tender London broil, you can follow this simple recipe.
---
3/4 cup

sodium soy sauce

Two tablespoons

balsamic vinegar

Two tablespoons

Worcestershire sauce

Two tablespoons

olive oil

One tablespoon

lemon fresh

Two teaspoons

minced garlic

One teaspoon

minced fresh ginger

Two teaspoons

brown sugar
---
Instructions
London broil is first marinated before cooking to get the best result. Marinating your London broil makes it tender, and more delicious as the spices soak into the meat very well.
Marinating your London broil
Whisk all the marinade ingredients, and pour the mixture into a dish or Ziploc bag.
Add your London broil; toss well to coat the meat in the marinade. Then cover or seal very well.
Put into the refrigerator and let the meat marinate for at least 4 hours, or up to two days.
Regularly toss the meat in the marinade to ensure that the marinade is equally coated to all steaks; you don't want your London broil to taste bad.
Remove your meat from the marinade, allow it to dry, and then discard the marinade. Your meat is ready to be cooked in an oven.
Cooking your London broil
Preheat your oven to 350°F for 30 minutes.
Put your meat into a broiling pan as the rack in the broiling pan helps to prevent the fat dripping from the meat from becoming a fire hazard.
Broil for about 8-10 minutes. Turn once about halfway through; this allows the meat to cook evenly.
Check for doneness with a meat thermometer. Your meat is done between 120-130°F.
Remove your meat from the oven and put it on a cutting board. Allow cooling for 10 minutes.
Cut your meat diagonally across the grain into thin slices. Now, you have a nice flavored London broil in front of you.
Notes
Impress your family at dinner and weekends with a lovely London broil served with mashed potatoes, brown butter asparagus, roasted cauliflower, and glazed carrots.