If you're a lover of roasted Asparagus, as I am, then you're always coming up with newer ideas to prepare this tasty vegetable. But you may have worried about the proper duration for which you should roast it in the oven, especially at the high heat of 400°F. Well, if you pay attention to the various factors that surround this recipe, you'll be able to work with the same time frame every time.
Tips for Cooking Asparagus in the Oven
Roasting Asparagus in the oven at 400°F isn't a complex process at all. Still, you can mess it up if you don't know what you're doing. It's why this recipe is included with extra hints to help make sure your roasted asparagus batches always come out tasty.
Use fat spears of Asparagus when roasting at 400°F. If you use the skinny ones at this heat, they'll fry out quickly in the oven and come out tough and challenging to eat.
Prepare the asparagus stalks by washing them thoroughly in running water. You can also break off the ends if they're more rigid than the rest of the stalks. The outer tougher skins of the ends can also be peeled off if cutting them would make them seem shorter.
At 400°F, asparagus stalks are prone to drying. To make sure they roast till tender, coat the stalks with olive oil. Be careful with how much oil you use. Too much oil will make the stalks soggy, and too little will cause them to burn faster.
Impart an extra dose of flavor to your oven-roasted asparagus stalks with some salt and pepper. You can use any ground pepper you'd prefer, but the best options are either black pepper or paprika, as these have decent high heat. Also, kosher salt is most preferred.
For an extra dose of flavor and aromatics, add a bit of minced garlic to the asparagus stalks. Remember that these spices and seasonings go onto the stalks before you roast, so make sure to rub them in evenly with the olive oil.
Once it's ready, you can eat it at once. But if you want to add a wow factor to the dish, finish the stalks with a drizzle of fresh lemon juice. You can also use balsamic vinegar if you're out of fresh lemon juice.
Cooking time for Asparagus at 400°F
At 400°F, vegetables cook at high heat, and if they aren't thick enough, they'll dry out, and you'll end up with a touch chew. For Asparagus, it's no different, which is why it's suggested that you use thicker stalks if you're roasting them at this oven temperature. And for such thick stalks, you can roast them for up to 10 minutes at 400°F. Of course, it's necessary to check a few minutes before the allotted cooking time for doneness. You should expect a light browning on the stalks, and they should be tender when pierced with a fork.
Print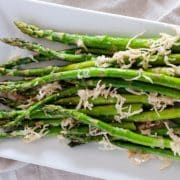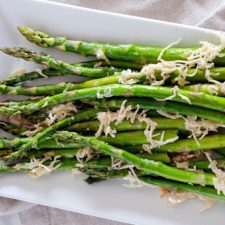 Oven Roasted Asparagus with Parmesan Cheese (4 servings)
---
1

pound asparagus stalks, thick

Two tablespoons

olive oil, extra virgin
Black pepper, freshly ground
Two cloves garlic, minced
Kosher salt
Lemon juice
Parmesan cheese, to taste
---
Instructions
Rinse the stalks in running water, and prepare the stalks if they're thick by cutting them off or peeling them with a vegetable peeler.
Preheat the oven to 400°F, and line a roasting pan with aluminum foil. Place the asparagus stalks on the pan in a single line. Don't place them over each other, but side by side.
Drizzle the spears with olive oil and rub them in. Next, add the salt, pepper, and minced garlic and rub it in thoroughly.
Put the Asparagus-filled pan in the oven and roast them for 10 minutes. Be sure to check a few minutes before for doneness. You'll want the stalks to be lightly browned and easy to pierce with a fork.
Serve the roasted asparagus spears with a drizzle of lemon juice and a sprinkle of grated Parmesan cheese. But if you're vegan, you can skip the cheese.