What'll be your reaction if I told you that I could always guarantee perfectly cooked, tender pork chops? Would you take my word for it? Or have too many overcooked shoe-leather pork chop dinners turned you off from this simple addition to your weeknight meal rotation?
Making perfect pork chops is simple: first, they are seared in a hot pan for about 3 minutes, then flipped and finished in the oven. This method ensures that they are cooked through but not overcooked. Nobody likes tough, dry chops. Instead, in no time, you'll have juicy, tender pork chops that will be the star of any meal.
Pork Chops Nutrition Facts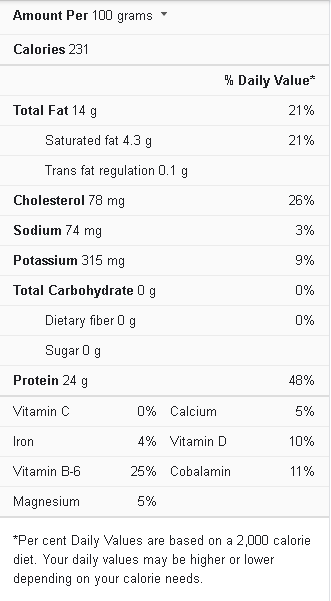 Cooking Suggestions
To ensure a good sear, bring your chops to room temperature before cooking. This will take approximately 20 minutes.
The thickness of the pork chops determines the cooking time. If they are less than an inch thick, they will take less time in the oven; if more than an inch thick, they will require more time.
If possible, use a cast-iron pan so you can cook the pork chops on the stove before you transfer them to the oven without switching pans.
I recommend that you look for a bone-in pork chop. They take more time to cook than boneless chops, but they are another way to ensure tender cooked pork chops, in my experience. And by "a little longer to cook," I really mean just a few minutes. It will not make a significant difference in your meal preparation.
It's time to brine your pork chops after you get them home! Brining pork chops is an excellent way for ensuring a juicy cooked pork chop. Even a 30-minute brine (or up to four hours) makes a significant difference. It's not strictly necessary — although you can still make great pork chops with this method without bringing.
Bone-in Pork Chops Cooking Time
The most important "trick" to making oven-baked pork chops is not overcooking them. Because pork chops are lean meat, they will dry out if you leave them in the oven for too long. But don't worry, there's an easy way to figure out how long to cook your chops. Boneless pork chops should be cooked for 7 minutes per 1/2-inch thickness in a 400-degree oven. If using bone-in pork chops, add a minute for every 1/2 inch.
If you're a newbie at making roasted pork chops, an instant-read meat thermometer is the best way to tell if they're fully cooked. Cook pork until internal temperature reaches 145 degrees Fahrenheit. I use a meat thermometer to ensure that the meat does not overcook.
Print
How Long to Cook Bone-in Pork Chops
---
2

bone-in pork chops

2 teaspoons

of brown sugar

1 teaspoon

of paprika

1/2 teaspoon

of salt

1/2 teaspoon

of fresh grounded pepper
Onion powder
Vegetable oil
Green beans
Lemon wedges (optional)
---
Instructions
Pork chops should be brined. Although this first step is optional, brining the pork for even a short period adds flavour and ensures juiciness in the finished chop. Bring 1 cup of water to a boil, then stir in the salt and optional flavourings to dissolve the salt.
Add about two more cups of cold water to bring the brine temperature to about 25 degrees. Place the pork chops and cover with brine in a dish. If the brine does not cover the chops, add more water and salt (1 cup water to 1 tablespoon salt) until they are submerged, then refrigerate for 30 mins or up to 4 hours, covered.
Preheat the oven to 400 degrees Fahrenheit and brush the pork chops with oil, saving 1 tablespoon for the green beans.
Combine pepper, salt, onion powder, and paprika in a small bowl and season the bone-in pork chops. Put them on a baking sheet. On the side, add the green beans, drizzle with oil, and season with salt and pepper.
Bake the pork chops and green beans for 15-20 minutes, or until the pork reaches an internal temperature of 145F. Green beans should be soft and cooked all the way through. If the green beans cook faster than the pork, you may need to remove them from the oven first.
Allow the pork chops to rest for 3 minutes before serving.