Pork chops are as delicious as they're easy to make, which is why they feature on almost every menu. You can enjoy them as a dinner spread, in sandwiches, or even serve them on any occasion. Pork chops are tender, juicy cuts of meat that release a fantastic burst of flavor and moisture when you eat them. So why not learn how to prepare them so you can always have this tasty dish at your reach all the time?
Here, you'll be focusing on how to prepare boneless pork chops in the oven. Of course, there are bone-in pork chop cuts, as well as other means of cooking them. But the oven style is the most convenient option for cooking boneless pork chops. It's quick, needs no extra attention, and you end up with juicy, moist, and delicious baked pork chops. So, follow these tips to cook your boneless pork chops in the oven.
Boneless Pork Chops Nutrition Facts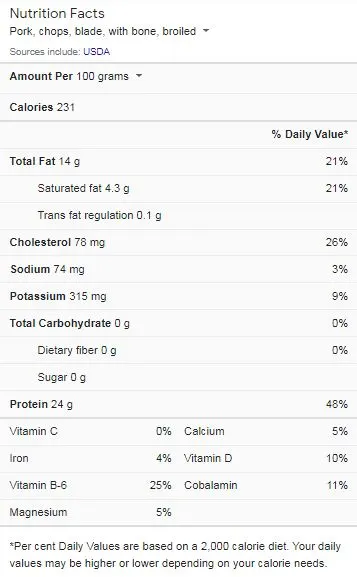 Choose the Boneless Pork Chops
It's always best to buy boneless pork chops (or any cuts of pork for that matter) fresh. And make sure to purchase one-inch thick boneless pork chops, though you can buy thinner or thicker. But be clear that the cooking time will be affected by the thickness. Also, buy the cuts the day before and store them overnight in the fridge.
Prepare the Oven
Boneless pork chop cooks fast, so you'll need an oven temperature that ensures all parts of it are cooked evenly. But I've found the best way to prepare these cuts is to let the oven reach 400°F before cooking. This style allows me to complete cooking my pork chops in less than 20 minutes!
Prepare the Boneless Pork Chops
Remove the chops from the fridge and leave them to sit at room temperature for about thirty minutes. You want the meat to be at average temperature before cooking, as any colder will affect the cooking time. Afterward, you can season with any mixture of spices you prefer, but make sure to rub it into the meat. You can also let the pork chops sit for about five minutes, so the spices seep in.
Roast the Boneless Pork Chops
Line a baking dish with foil and oil the bottom. Then, place the pork chops into the lined container and drizzle little oil on them. Then, bake the pork chops at 7 minutes per half an inch. This parameter means you'll need about 14 to 15 minutes for one-inch pork chop cuts. Four double the thickness, you'll have to double the cooking time.
Rest the Boneless Pork Chops
Once the boneless pork chops are ready, let it sit for five minutes before serving. This way, the juices will redistribute in the meat. If you cut and serve the meat too early, you'' end up with a dry chew.
Oven-Cooked Boneless Pork Chops Extra Tips
Roast the pork chops in a baking dish with walls. This way, the juices will collect around the meat and cook it to a tender, moist level.
Pork must reach an internal temperature of 145°F before it's considered safe to eat. So, you can use a meat thermometer to confirm the doneness before you serve.
Once cooked, baked boneless pork chops can be stored in an air-tight container and refrigerated for five days.
Print
Easy Oven-Cooked Boneless Pork Chops (4 Servings)
---
Four boneless pork chops, one-inch thick

Three tablespoon

olive oil

One teaspoon

paprika

One teaspoon

black pepper

One teaspoon

onion powder

One teaspoon

garlic powder

One teaspoon

salt
---
Instructions
Bring the pork chops out and let them sit at room temperature for thirty minutes. While waiting, preheat the oven to 400°F, and mix the spices in a bowl. Generously rub the spices into the pork chops with your fingers.
Oil the bottom of a baking dish and place the pork chops. Drizzle the top with some of the oil, and bake in the oven for fifteen minutes. Set down when the internal temperature of the pork chops reaches 145°F.
Leave the pork chops to sit for thirty minutes before serving. You can also take a look at this video recipe for more suggestions.