Many parties and get-togethers have been rescued by the superfast recipe that is air fryer chicken tenders. And not only is the recipe delicious, but also flexible and can be recreated in various ways. But since it's a classic fast-food menu, you're always looking for ways to make it faster. Luckily, you can always tweak your cooking time to shorter lengths, provided you know what to do.
Air Fryer Chicken Tenders Cooking Suggestions
Different recipes exist for air fryer chicken tenders, but not many will give you a faster way of preparing them. So, here, you'll get some helpful tips on how to cut back the cooking time for this highly favored and yummy recipe.
Set Fryer at High Heat
When the air fryer is set to a lower temperature, the chicken will cook slower. So, if you want superfast air fryer chicken tenders, you should be looking at something ready in minutes. And the best temperature to do this is a range between 330 to 350°F. This reading, of course, depends on how large the tenders are and what part of the chicken you're cooking.
Master Chicken Type
Chicken tenderloins are the classic parts used to make this recipe and these cook in less than 14 minutes at the given temperature. But if you're using other chicken parts, the thickness of the meat will influence cooking time. For example, drumsticks can be used, but they take longer to cook than tenderloins. So, the best way to master using them is to observe the drumsticks as they cook and mark the time it took for them to be golden brown.
Stand the Chicken
If the tenderloins overlap in the air fryer basket, it'll interfere with the cooking time as the doneness won't be even. So, make sure they're separated in the basket so they can cook individually. And one way to make sure this happens is to stand the chicken against the sides of the basket.
Cooking Time for Air Fryer Chicken Tenders
Your chicken tenders should cook at a temperature of 330 to 350°F, which would take them about 12 to 20 minutes to be thoroughly done. Of course, the speed depends on the size of the tenderloins and the chicken parts you're using to make the tenders. But on average, you should take the chicken down when your meat thermometer reads an internal temperature of 165°F in its thickest area. And if you don't own a thermometer, observe the juice of the tenders for a clear, white hue.
Print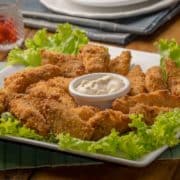 Air Fryer Chicken Tenders (4 servings)
---
Four skinless, boneless chicken breasts (6 oz. each)

Two tablespoons

melted butter

½ teaspoon

salt

¼ teaspoon

paprika, smoked

¼ teaspoon

black pepper

¼ teaspoon

garlic powder
---
Instructions
Mix the butter, salt, and spices in a bowl and brush the mixture evenly over the breasts.
Stand the breasts against the sides of the air fryer basket and set the temperature to 350°F. Cook the chicken tenders for 15 minutes, turn them, and cook for another 5 minutes.
Check for doneness with a meat thermometer. If the indicator reads 165°F, set the chicken breasts down and serve.
You can coat the chicken breasts with flour and bread crumbs before you air fry them. And you can serve them with mashed potatoes, Mac and cheese, potato salad, coleslaw, Southern-syle green beans, corn on the cob, or Zucchini fries. You can also place them next to BBQ, Buffalo, or any other dipping sauce of your choice.